On Sunday Matt Edmonds created club history by becoming the first Hastings Runner to win the ESSXCL title and he's done it with a race to spare.
Matt produced a commanding performance to leave the rest of the field in his wake and land a 4th win of the season to build up an unassailable lead at the top of the standings.  He even did it wearing white socks. I mean who wears white to a muddy x-country venue?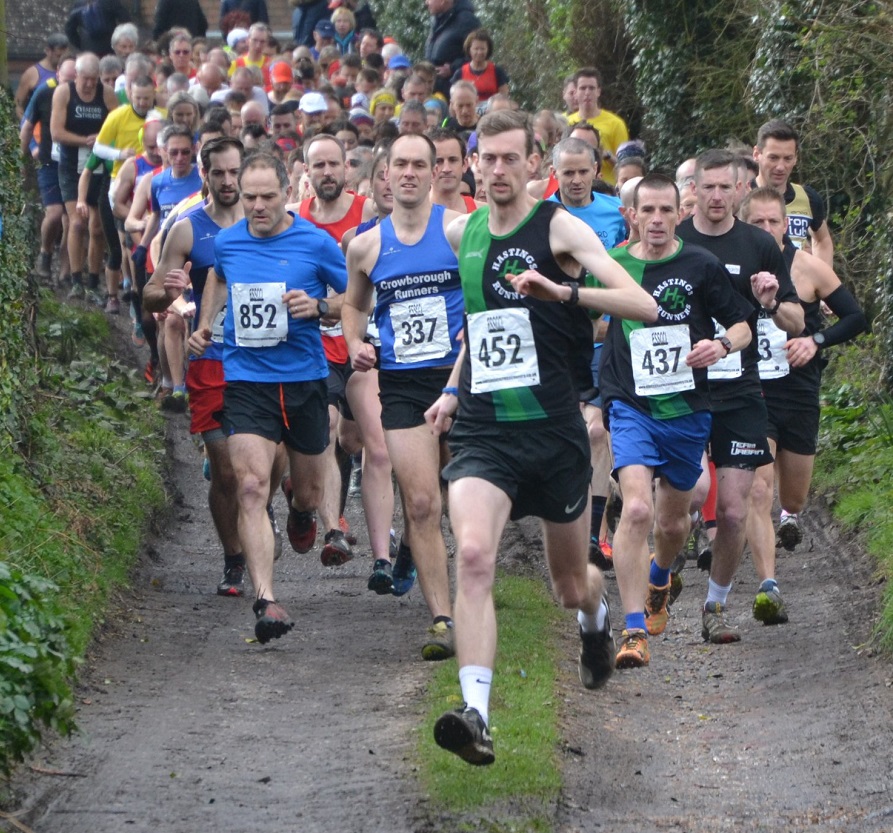 Finlay Goodman won the U13 boys race. That came just a day after he had represented Sussex in the National Inter Counties X-Country at Loughborough. Finlay finished 15th in a field of 300 runners and was the first Sussex Runner across the line.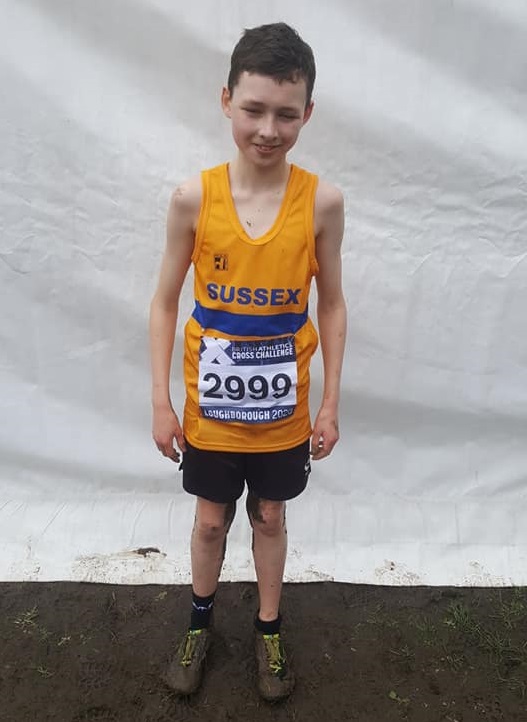 Despite the challenging conditions the event was a huge success and showcased what a wonderful club Hastings Runners is. Much of the credit goes out to Tim Jury who works tirelessly to make sure everything runs smoothly.
Well done to the "brilliant and wonderful" (not my words) marshalls, those that helped with the cakes and of course all the runners who completed the event. Results should be in over the next 24 hours.
Pett X-Country Results: Matt Edmonds 29:12, Darren Barzee 32:31, Martin Noakes 32:48,  Neil Jeffries 40:19, Piers Brunning 41:16, Joanne Nevett 43:03,  Simon Fry 45:47, David Bratby 46:11, Peter Noakes 46:58,  Ruth Spiller 50:01, Sylvia Huggett 51:31, Shana Burchett 51:50,  Terry Kitson 54:41,  Berenice Consavela 56:09, Trish Audis 57:35, Amanda Moore 59:54, Yockie Richardson 60:24,  Pam Greenstreet 61:12, Sarah Sellens 61:34, Katerine Cowan 61:35, Jo Edwards 61:45, Judith Creasy 69:05, Irene Kitson 69:06.
The club had a strong representation at Lydd on Sunday as many continue their Spring Marathon training.  13 runners took on the 20 mile route.
Kevin Blowers was the first HR across the line in a fantastic time of 2:47:35. Rachael White, who'd never ran 20 miles before was the first female runner home in 2:56:40. Kevin hasn't stopped messaging me about getting his photo included in this report. So as promised Kev, here's the picture.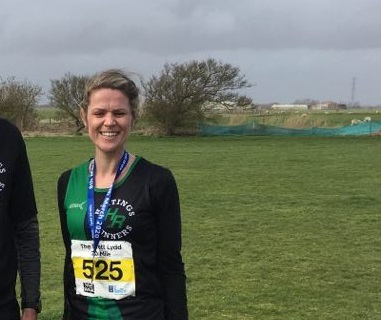 Leo Cacciatore produced a superb time of 1:27:01 in the half marathon in which we had 6 representatives.
Lydd Results: Half Marathon: L.Cacciatore 1:27:01, M.Turner 1:41:10, B.Sallows 1:45:51, D.Pearson 2:07:06, A.Ballard 2:07:44, J.Hudson 2:12:35.
20 Miler: K.Blowers 2:47:35, R.Cross 2:49:39, L.Evans 2:54:42, R.White 2:56:40, M.Snape 2:57:54, E.Allchurch 2:59:04, S.Trevana 3:313:25, T.Mann 3:14:12, K.Callow 3:31:04, E.Stubbs 3:39:10, N.Lambrou 3:35:12, A.Gardner 3:35:12, S.Wilkinson 3:41:39.
Our club chairman Nick Brown picked up another trophy in Spain, winning the MV60 category in the Beniel International Woman's Day 5k. There was also success for Helen Brown in the FV50 age bracket.
A week previously Shana Burchett and Amanda Moore took part in the 3rd Race of the Fit Together Canicross Winter-Spring series in Ashford. If anyone is interested in taking part in some Canicross events then please contact Shana.