A cold beer, free cake and the vibrant tunes of the Wadhurst Brass Band greeted over 30 Hastings Runners who tackled the undulating 15 mile route around Bewl Water.
It's a beautiful location, but don't be fooled, with the July sunshine breaking through the clouds and the course difficulty increasing with each passing mile, this was no Sunday saunter.
Yolando King was the 5th female to complete the course. What was really impressive about this achievement was Yolanda had never run 15 miles before. She entered the race believing it was 15km. But that slight oversight didn't stop her scooping up an age category award.
Likewise, Bob Dennis (MV75), Sarah Marzaioli (FV70) and Erica Wilson (FV75) all left Wadhurst with a trophy to add to their cabinets, winning their respective age brackets.
The first Hastings Runner to complete the course was Paul Lambert in 1:52:58. A testament to his recent hard work in training that continues to bring improvement to his race times. Less than 3 minutes behind, was Martin Noakes, running a superb race to finish in 1:55:31.
Martin Snape surprised many by managing to stay on his feet for the whole 15 miles, despite his inappropriate footwear falling apart. Alongside Kieran Price they came home in 1:58:20, shortly followed by Yolanda (1:58:43) and Darren Barzee (1:58:51).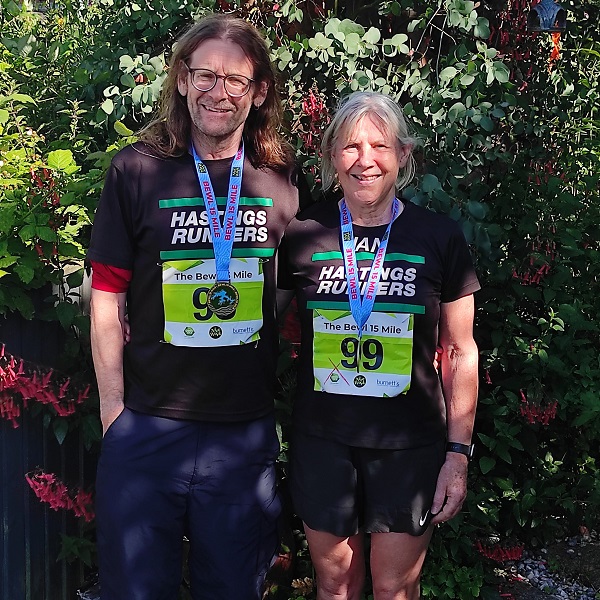 Picture: Bill Edmondson & Jan Young
Friday evening marked the start of the 17th Rye Summer Series, beginning with the 10K. 5 Hastings Runners took part with Adam Weller the first home in an excellent time of 39:24.
Kevin Blowers took on board some wise words and tucked in behind a fellow runner into the breeze. His human wind break was having none of it though and started to shuffle from side to side to fend off his new nemesis. Kevin found himself exposed to the headwind and when he next glanced behind him, a line of runners had taken refuge from the elements, close on his tail.
Many a runner would have been left dejected by this exploitation, not Kevin. He produced a superb 2nd half of the race to clock a new 10K PB of 42:00.  Nicola Steed (45:20), Adam Holland (1:00:55) and Henry Worthington (1:13:29) also sailed home to record excellent times.
In a somewhat contrasting challenge, Helen Rothermel and Nick Thompson headed West to complete the Rat Race Man v Coast over the weekend. An event which involved twice venturing into the sea to complete the route.
Bewl 15 Results
Paul Lambert 1:52:58
Martin Noakes 1:55:31
Kieran Price 1:58:20
Martin Snape 1:58:20
Yolanda King 1:57:43
Darren Barzee 1:58:51
John Simcox 2:08:53
Richard Towner-Roethe 2:11:56
Mark Storey 2:15:37
Simon Linklater 2:16:14
Kevin Blowers 2:16:15
Piers Brunning 2:17:16
Michael Norris 2:18:13
Charles Bowley 2:25:43
Amanda Link 2:26:29
Sarah Bendle 2:26:30
Simon Trevena 2:27:11
Matthew Miller 2:32:32
Trevor Briggs 2:35:44
Lucie Smitalova 2:35:25
Bob Dennis 2:42:40
Sue Wilkinson 2:47:35
Jan Young 2:48:32
Sarah Marzaioli 2:55:34
Bill Edmondson 2:56:19
Nina Lambrou 2:57:49
Sue Alabaster 3:01:32
Dave King 3:02:34
Kerry Freeman 3:05:27
Shana Burchett 3:23:18
Erica Wilson 3:47:22
I know a few of you are missing from the Nice Work results. So if you ran a race this weekend, let me know and I can add you to the report.
Simon Linklater