Hastings Runners were out in force again at the weekend. Up and down the country the Green & Black vests were worn with pride and boy did you guys deliver. Starting up the A21 in Tonbridge with the return of the Half Marathon, part of our Club Championship, with crucial points up for grabs.

Kevin Blowers snatched the whole 200 on offer with a simply sensational performance. Tonbridge is not a flat course. 195 meters of elevation to be precise. But still, Kevin absolutely smashed his PB to cross the line in a fantastic time of 1:36:21, 7 minutes quicker than his previous best over 13.1 Miles. Kev my friend, you are a legend!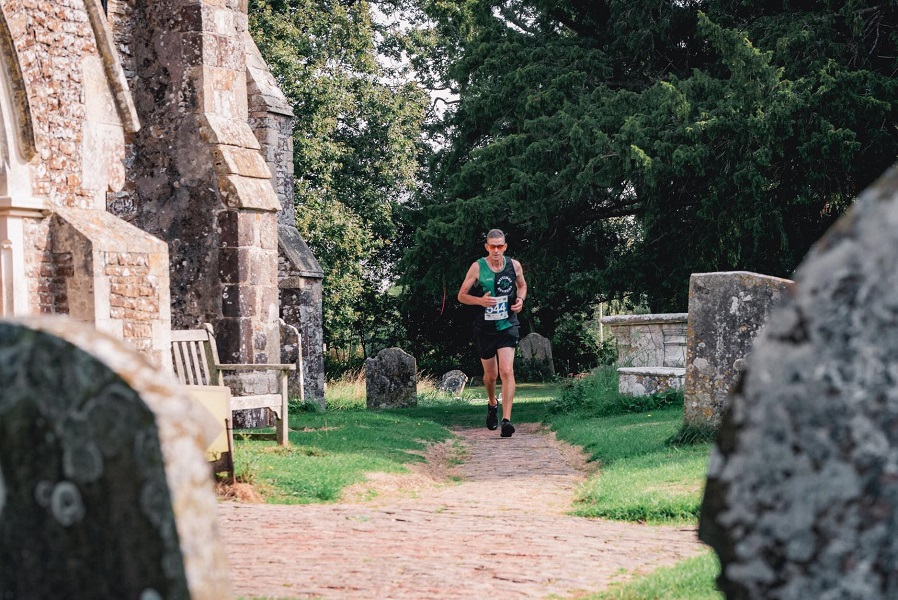 Kevin Blowers in a totally different race, but I like the photo so much I used this instead.
The eternally joyous Manami Cheves was also in PB mood. She ran 1:44:10, and much to her amazement, landed 1st place in the FV55 category. Simon Weatherley continued his excellent recent form with a personal best of his own crossing the line in 1:48:51.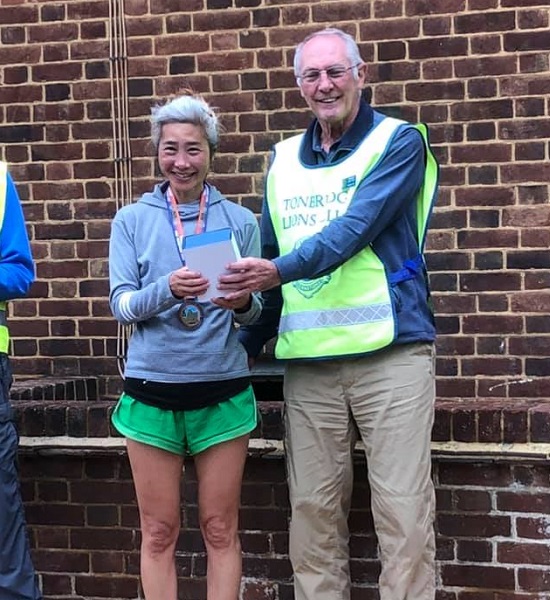 Manami Cheves, smiling of course
Also in attendance were John Simcox (2nd HR home 1:41:39), new member Robert Gagyi (1:54:39), the man who never misses a race, Charles Bowley (1:57:21), the slightly disgruntled Marie Crawford (2:05:28), the machine Sarah Marzaioli (ran London Marathon last weekend 2:11:38), Joe Cruttenden who is back from an injury layoff, Louise Cavill (2:36:57), who kindly provided me with the race details for this report and Henry Worthington.
30 minutes up the road, Matt Edmonds, Will Withecombe and myself (Simon Linklater) were snapping selfies with Gorillas and Ladybirds. We also found time to participate in the superbly organised and well attended (over 750 runners) Petts Wood 10K. A mixture of road and trails provided a challenging route, with excellent support throughout.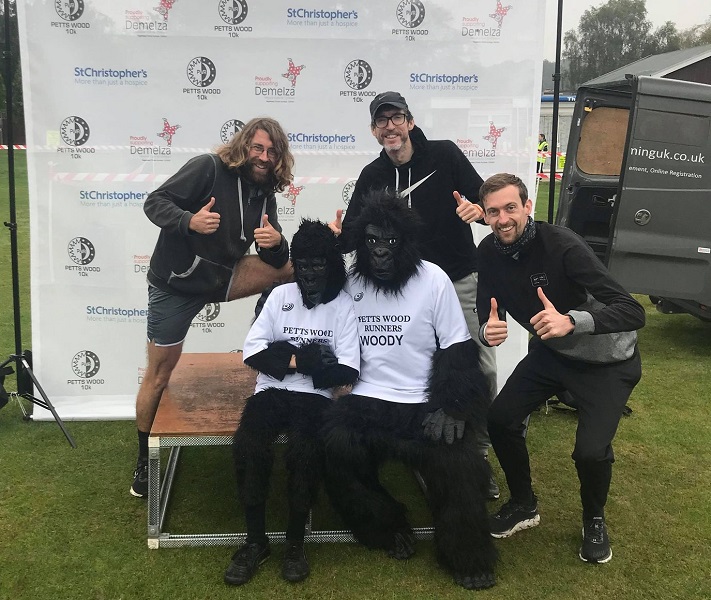 No words needed, Will, Simon, Matt (left to right).
Matt produced a scintillating performance to cross the line in 3rd place in a time of 35 minutes dead. He was shortly followed by the winning machine Will Withecombe, whose 6th place finish meant a rare weekend without stocking his trophy cabinet, perhaps it's full already? The faint hope of a team prize was dashed on the start line when Blackheath & Bromley Harriers turned up with their A-Team, 5 runners in the top 11, thus at least making me feel better for my 79th place finish in 45:28.
With Marathon season in full swing, it was the turn of Manchester to stage the big event of the weekend. 6 Hastings Runners made the trip North and with plenty of success. Jakuk Kucharski completed the 26.2 miles in 3:46:10. The ever improving Ben Brett was rewarded for his dedication in training with a new Marathon PB of 4:15:22. Lucy Brett notched up Marathon number two and a new PB in 6:11:12. Jess Tanner raised over £1200 for the charity BEAT and ran alongside her mum Alison. They finished in 7:08:58 and 7:09 respectively. To add a donation please click on the link below. James Graham took on the challenge bare footed and came home in 5:15:12. Catherine Southgate completed her first ever half marathon in 2:44:38.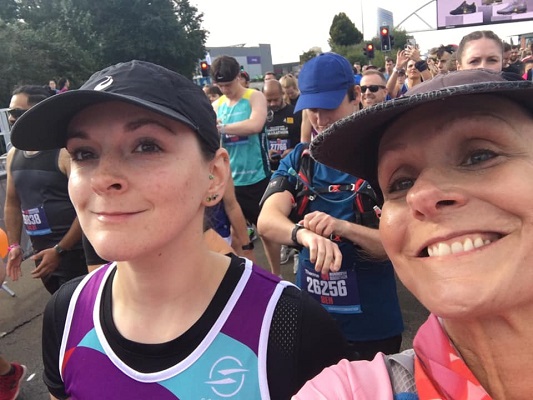 Jess and Alison Tanner
Jess Tanner – Fundraising for the charity BEAT
Back down on the South Coast, we had 4 runners in action at Brighton Half Marathon. It's been a while since I've mentioned a PB, so here's a particularly impressive one for you. Nicola Steed smashed her previous best over 13.1 miles to come home in a superb 1:43:19 (I told you it was good). Matt Beaver (1:51:03), Keith Goodsell (1:57:53) and Sarah Holmes (2:13:47) were also in action in sunny Brighton.

The Royal Parks Half Marathon populated the open spaces of London. Sadly the results table doesn't filter by club, but I do know Marie Appleton took part, albeit running with someone else's legs, so I'm told. Clearly I need to up my game when it comes to excuses, but Marie ran a very respectable 2:17:20. Chris Weeks was also in the capital, with his own legs along for the ride and finished the race in 2:14:42.

Sunday also saw the latest staging of the Race 4 Life in our very own Alexandra Park, Hastings. Chris White took part in the 10K and was very happy with his time of 1:10 minutes.  Jacqueline Scott took on the 5K route and came home in 28:40. 
If you ran this weekend and I've missed you out, let me know and if I like you, I'll add you to the report, some of the race results are a bit disjointed in places, making it difficult to compile them.