Cold. Wet. Caked in mud. Some even bloodied from falls. Yet bizarrely, still smiling whilst comparing tales of who trod in the deepest puddle or who had the most comical tumble.
The 55 that took on and completed the Christmas Pudding Dash on Saturday morning, did so in great festive spirits. Battling the muddy slippery slopes, the 2 foot deep puddles, the fallen branches and the water-logged fields. All whilst dressed in their finest Christmas attire and boy were some crackers on display.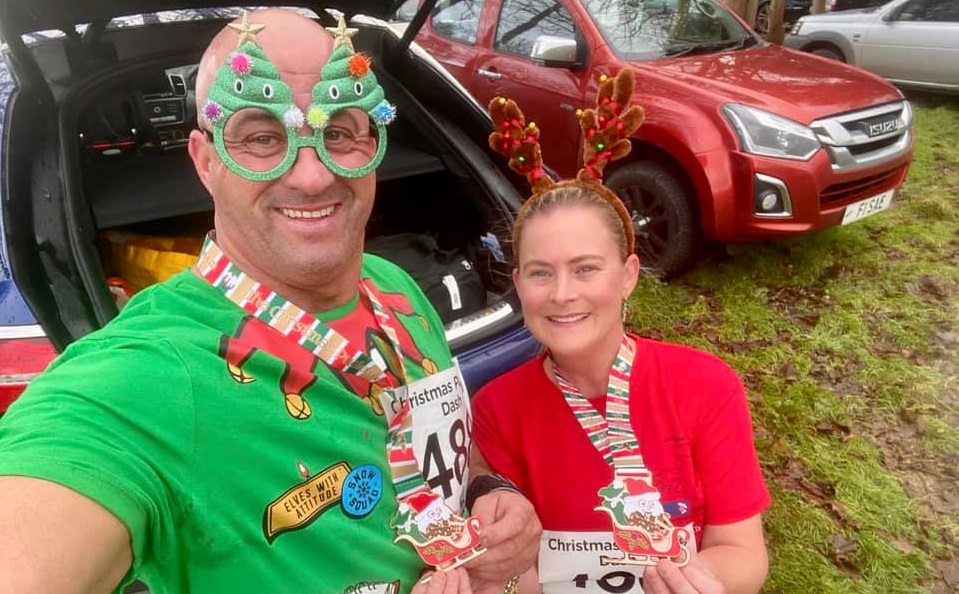 First to slide his way over the finish line was Patrick Bermingham in a superb time of 36 minutes. Graeme Grass, who rocked up fresh-faced from not only Hastings parkrun but the Xmas Drinks the night before, was 2nd home in 36:41. Rumour has it he spent the afternoon napping on the sofa.
Michael Hamer (37:19) and Danny Firth (37:43) made up the top 4. They were closely followed by our first female finisher, Jane Coles in a fantastic time of 38:09. Emily Allchurch (42:35) came 2nd, whilst Berenice Consavela (49:16) and Sue Palmer were joint third, with identical chip times.
There was success in the age category prizes too. Bob Dennis took the honours in the Male Vet 70 (I still can't believe he's that old) in 46:42. Christine Sanderson won the Female Vet 75 in 56:34. Our resident baker, Yockie Richardson, claimed first place in the Female Vet 70 in 58:52.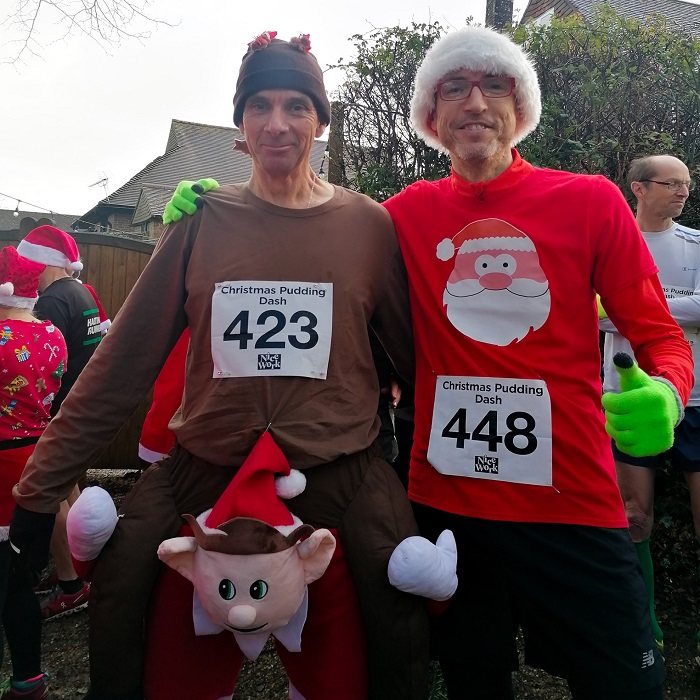 Thank you to the club members who were part of the race organisation. Steph Miller, Tim Jury, Andy Bashford, Lee Miller, Gary Lancaster and Corrina Skinner were all on hand to offer their encouragement. Thank you to the supporters that came along to cheer on their loved ones and no doubt question our sanity.
The Christmas Pudding Dash wraps up an amazing 2019 Club Championship. Places are still available at the Social Awards night which is due to take place on the 24th of January 2020. This really is an amazing event and not to be missed. Especially if you've yet to witness the incredible dance moves of our new Secretary Andy Lee.
Click here for the full results from the Pudding Dash.
Simon Linklater – Communications Officer