How incredible was that? The grin still hasn't left my face.
Take a bow. Every single one of you that stepped foot on the start line,  that conquered the hills and did our club proud.
Thank you to those that ventured out to offer vocal support and encouragement. It's hard to quantify what an impact having someone cheer your name does, it's huge and I feel that's evident in some of the amazing performances on Sunday morning.
Matt Edmonds produced his finest hour yet in his green and black vest, literally almost an hour, finishing the race in 1:13:54. It was a personal best and good enough for 4th place overall and the first local runner to cross the line.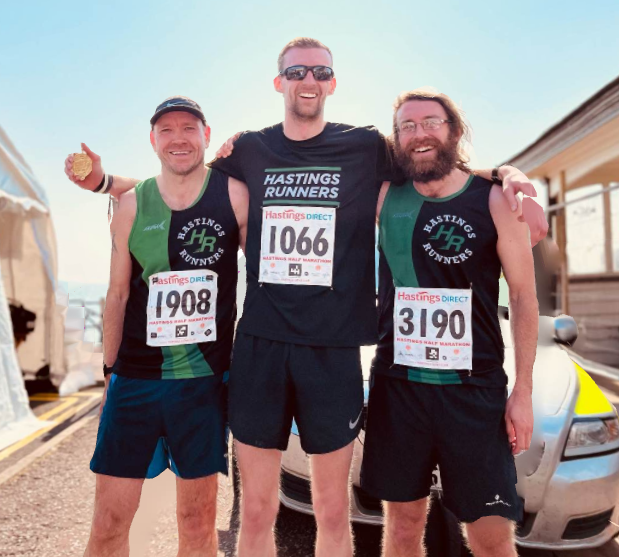 8 years on from his last half marathon, Will Withecombe ran a superb time of 1:21:01, a 3 minute PB and 24th place overall. He was closely followed by Colin White in 1:22:47, another PB (this course ain't flat folks). I told you the support made a difference.
Yolanda King was the first female Hastings Runners across the line in 1:32:06, 14th place overall. Closely followed by Zoe Fairclough in 1:32:29, also securing a 20 top position (16th). Nicola Steed made up the Top 3 in 1:41:18.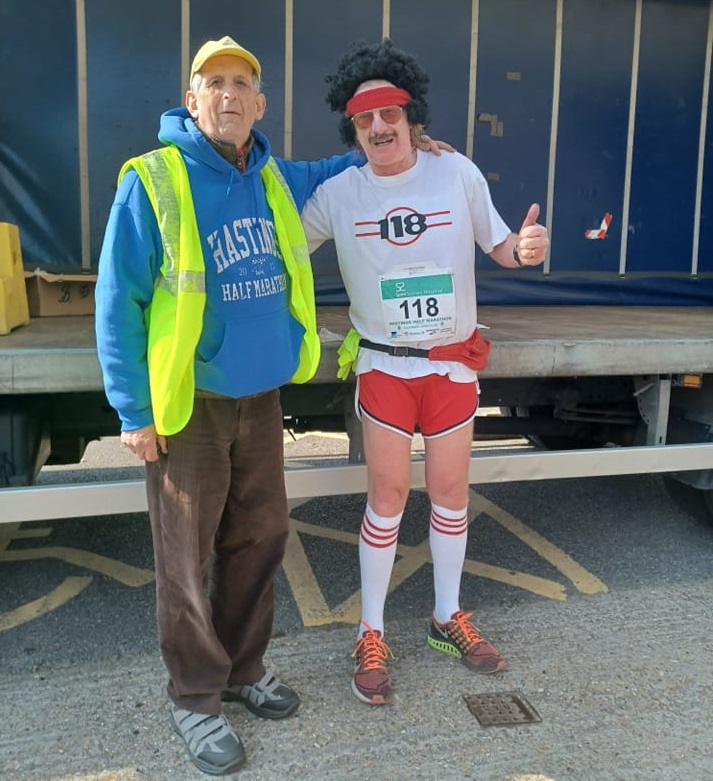 The half marathon PB's don't stop there. Far from it. Paul Lambert produced a 4 minute PB to mark his return to form in 1:30:25. Kevin Blowers who celebrates his 60th birthday in a weeks time, ran 1:35:11.  Yes, I did say 60th!! Perhaps someone should tell him? Or perhaps not?
Richard Roethe (1:38:37), Andy Alabaster (1:51:59) and Jon Smalldon (1:53:28) all clocked PBs in their first outing around the hilly Hastings route. Jacqueline Mannering was probably one of the few who found the 13.1 miles too short, with a 5 minute PB in 1:52:42.
Annette Fry came tantalizing close  to breaking the 2 hour barrier, but still managed a PB in 2:00:38. Next time Annette! Sharon Wadham joined the PB gang in a time of 2:12:38.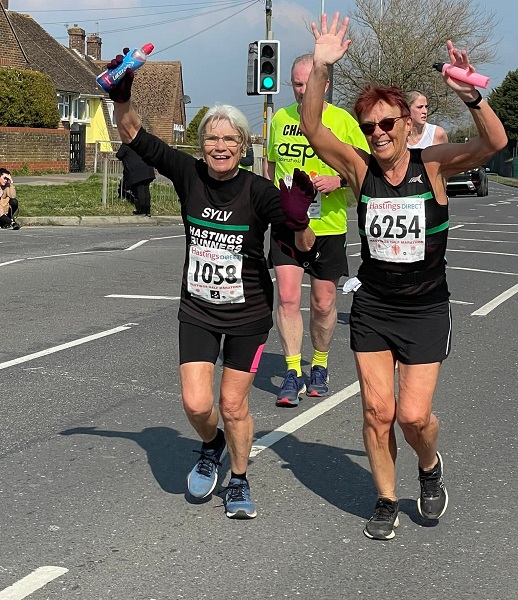 Yockie Richardson, 76 years young, completed her first ever Hastings Half Marathon in 2:20:00, 1st in the W75 category. I just don't have the words to describe how inspiring that is.  Erica Wilson pocketed 2nd place in her age category too. Linda Beddis knocked 8 minutes off her previous best Half Marathon in 2:38:45.
Lucie Smitalova (1:57:15), Glenn Read (1:58:27), Lucy Brett (2:27:31) and Joanne Fellow (2:58:03) all completed their first ever half marathons. So I guess the times count as PBs?
There were several runners representing charities. Amanda Link (MacMillan Cancer), Catherine Southgate (Red Cross), Davinia Hill (Stroke Association), Millie Mitchell (National Autistic Society) and Samantha Welfare (Ukraine UK Red Cross) all raised money for good causes.
Sylvia Huggett and Darren Barzee maintained their amazing streak of having completing every half marathon since it began.
Well done to Nigel Thornley, Jessica Cull and Sarah Bendle who were part of the pacing team for the race.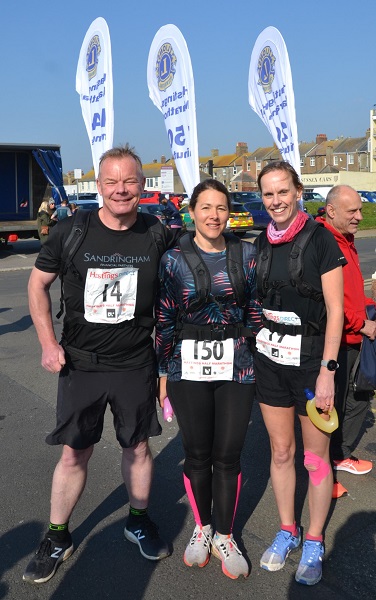 Let's also give Terry Kitson a mention. Terry twisted his ankle before the race even started. Sadly he had to take the sensible decision to sit this one out.
Wait a minute.
That's wrong.
Terry chose to run anyway, completing the course in 3:04:16. Congratulations to Terry and Irene who celebrated their 50th wedding anniversary at the weekend.
In the Mini Run Lewis Betts finished in 4th place, completing the 2km route in 7 minutes and 26 seconds. Sophie and Amy Ashby finished in 9:42.
A big thank you to Eric Hardwicke for all his hard work. Also to the Sea Cadets who do an amazing job helping out on the day. These events are not possible with the hard work of so many individuals, often behind the scenes.
Please if I've missed you out, drop me an email or DM and I will update the report tomorrow morning before sending it off to the Observer.
💚 GO HASTINGS RUNNERS 🖤
Simon Linklater (PB for me to, but didn't want to brag)