Finlay Goodman continued his excellent progress by landing another prestigious title over the weekend. Following on from his success in the Under 11 race a year ago, Finlay added the U13 Sussex X-Country title to his increasingly crowded trophy cabinet.
Proud father Mark Goodman said, "Finlay ran an intelligent race and attacked at the start of the 2nd lap up the drag and then opened up a gap to the others to give him a decent gap at the end".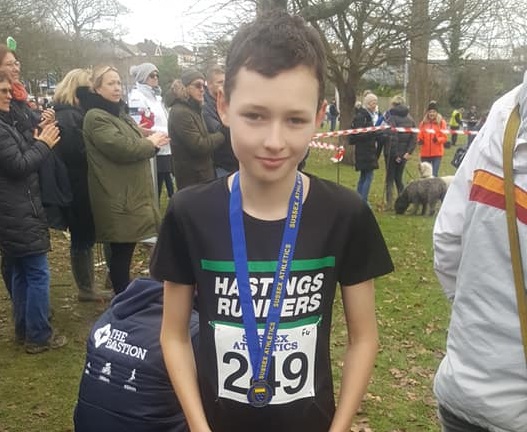 Mark himself took part in the senior race, producing a fine performance of his own to break the Top 50 in a time of 42.31. Martin Noakes (45.19), Piers Brunning (57.23) and David Bratby (61.23) were also representing the club.
Whilst many of you were still in bed or knocking back the paracetamol, 7 more sensible members of our club were up bright and early on New Years Day to compete in the Lamberhurst 10K. Simon Newstead produced a fantastic time of 41 minutes and 53 seconds to narrowly miss out on a top 20 finish.
Danny Firth who is on his way back from a prolonged injury layoff smashed the 45 minutes barrier in 44:59. Did I say "smashed"? Simon Deeprose (51:54), Adrian Barratt (51:36), Sharon Wadham (58:48), Paul Wadham (59:38), Sarah Holmes (1:02:16) and Allison Tanner (1:03:53) all got their 2020 off to the perfect start. Shame on the rest of you!!!
Just prior to the New Year Ben Sallows (1:24:29), Stuart Woolford (1:32:19), Darren Pearson (1:35:10) and Sue Wilkinson (1:37:35) all completed the Staplehurst 10 miler.
Further afield, in the warmer climates of San Fulgencio, Nick Brown landed another podium finish in the Race to Kings 5km, crossing the line in 3rd place in the MV55 category.  Helen Brown narrowly missed out on a trophy, finishing 4th in the FV45  age category.
The weekly update wouldn't be complete without a PB mention for Susan Rae. She set a new course record at Hastings parkrun in the FV60 age bracket on the 4th January. On the same day Matt Edmonds backflipped his way to another parkrun success.
If anyone took part in a race over the previous 7 days then please let me know and I will add you to the report.
Thanks for reading. Simon Linklater. Communications Officer.