With health and safety out of the window, eleven Hastings Runners donned their flammable Green & Black Vest on a mild October evening to complete the annual ritual of commencing the Bonfire Parade.
The brave souls that put their lives on the line to promote the club were Simon Weatherly, Louise Weatherly Cavill, Jon Smalldon, Neil Jeffries, Matt Edmonds, Nick Webb, Jacqueline Scott, Alison Tanner, Keith Goodsell, Julia James and Charles Bowley.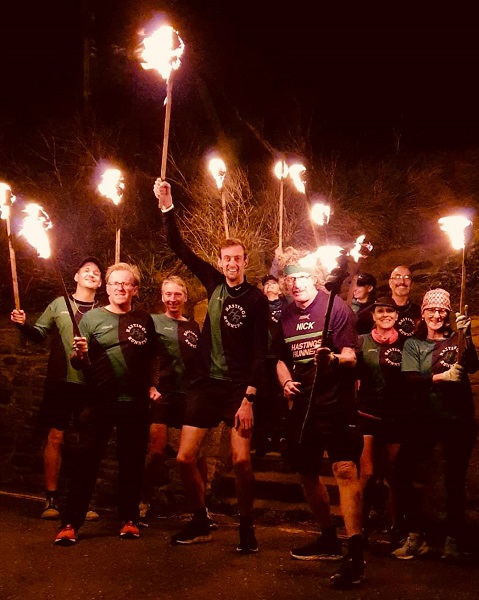 Their torches were lit from the beacon, high up on the East Hill. The runners  carefully light-footed their way down the steps and lit up the Old Town, cheered en route by spectators keen to get a front row seat for the upcoming procession.
The run was timed to perfection, reaching their destination at exactly 7:15 to hand over the torches, rest their weary arms and join the crowds to enjoy the main show. Fun was had by all, a great experience and one I can recommend myself if you ever get the chance to take part.
There were several races taking part at the weekend too. Sarah Marzaioli  was in Marathon mode (when is she not?) and travelled up North to tackle 26.2 miles in Yorkshire. Her time of 4:37:24 saw her finish first place in her age category and win a Gold Medal from the British Masters Athletics Federation.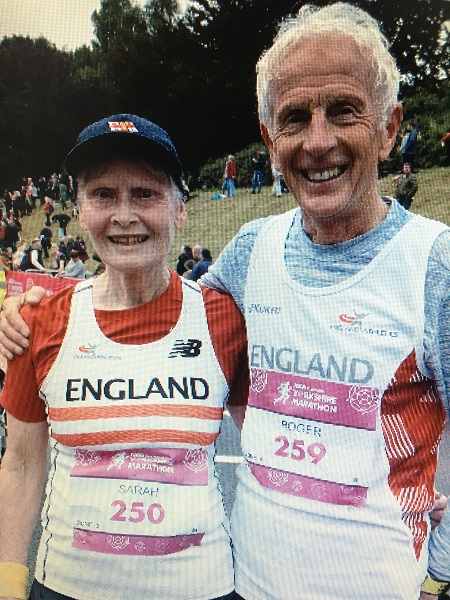 Sarah pictured with Roger from Havant Runners.
10 Hastings Runners headed along the coast to compete in the Great South Run. Darren Barzee produced a superb performance to finish the 10 miles around the streets of Portsmouth in 1:05:15, a new PB (finish times not chip times). That was good enough for 264th place out of a field of over 8,000 runners.
It's fantastic to see Graeme Grass back running and in fine form, crossing the line in 1:14:38 (finish time). There were PBs for Michael Norris (1:15:13), Susan Rae (1:15:20),  Krista Barzee (1:38:17) and Michelle Krombholz (1:43:21). Susan finished 2nd in her age category, but suspicions have been raised after some private detective work, that the winner may not actually exist.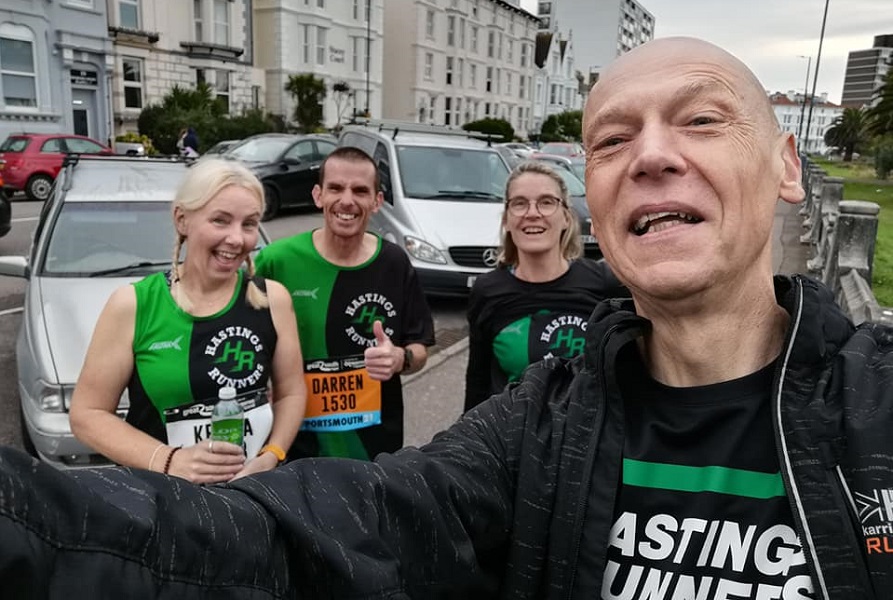 Kirsta Barzee, Darren Barzee, Susan Rae, Michael Norris
Also in action on Sunday morning in the Great South Run were Dave King (1:16:37), Paul Wadham (1:32:59), Krista Barzee (1:38:17), Sharon Wadham (1:38:18), Sarah Holmes (1:41:56) and Hayley Ranson (1:49:09).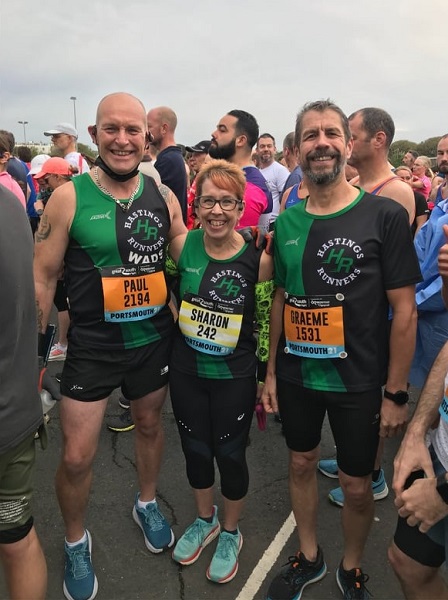 Paul Wadham, Sharon Wadham, Graeme Grass
Neil Jeffries and Chris Weeks chose to race the Rhinos, Baboons, Lions, Tapirs, Bisons, Gorillas and all creatures great and small in the Port Lympne Run Wild 10k. The course was very hilly with some twists and turns, adding over 5 minutes on normal 10k race times. Neil swung round the course in 51:37 to claim 1st place in the Mv60 category. Chris finished in 1:04:56 and he continues to work his way back from injury.
Monday saw the first ever Track Races. To ensure a fair chance for all, a handicap system was adopted and there were 3 different events. Simon Weatherly claimed the men's race over 3,000km, maintaining his lead throughout. New member Andy Lancaster took the 2nd Race over 2,000 meters. Finally, after waiting patiently in the pouring rain, the ladies took their turn to compete in an exhilarating 3km race which was won by Gilda D Silva, pulling away from Marie Appleton with just 200 meters to go.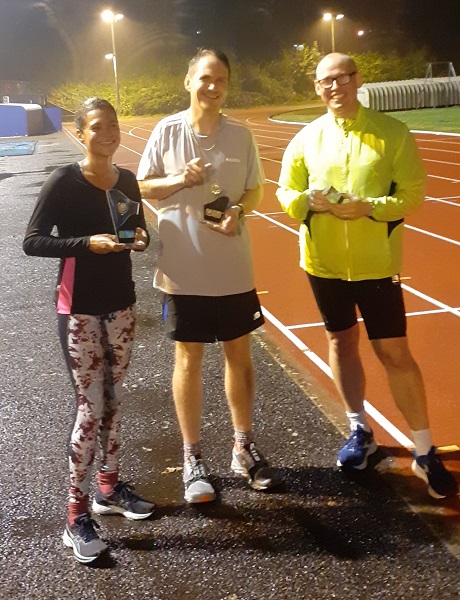 Gilda D Silva, Simon Weatherly, Andy Lancaster
This weekend is the Woodchurch 5 mile and 10 mile on Sunday. A Club Championship race which I know nothing about apart from it's somewhere near Ashford and has a hill or two.