The change to the usual format, with everyone running 2kms legs this time round, led to some tremendous performances. Star club junior Finlay Goodman recorded the fastest time with an explosivo 6.39, one of 4 runners to break the 7mins barrier; whilst another 14 runners ran 8.00 or quicker. A special mention also for junior Nathan Jondorf, whose excellent time of 7.14 was aided by an insanely rapido opening 3.03 km, which was the quickest km recorded!  So here's your leg by leg commentary guide as the battle for the coveted "baston del plato" (silver relay baton) unfolded!
LEG 1:  First out of the blocks was Marauders' capitan Matt Edmonds, who posted an excellent time of 6.49 on Sandrock playing fields having warmed up by walking 85kms the previous day from Dover to Hastings! However hot on his trail was Destroyers ' Dan Snellgrove who gave his Vaporflys a real caning on Bexhill seafront, with another tiempo rapido in 6.51. Excellent times too from Flyers' Mark Goodman around Bodiam Castle in 7.06, and from Dynamos' Jon Gardner on Hastings seafront in 7.18
Marauders 6.49; Destroyers + 2secs; Flyers + 17secs; Dynamos + 29secs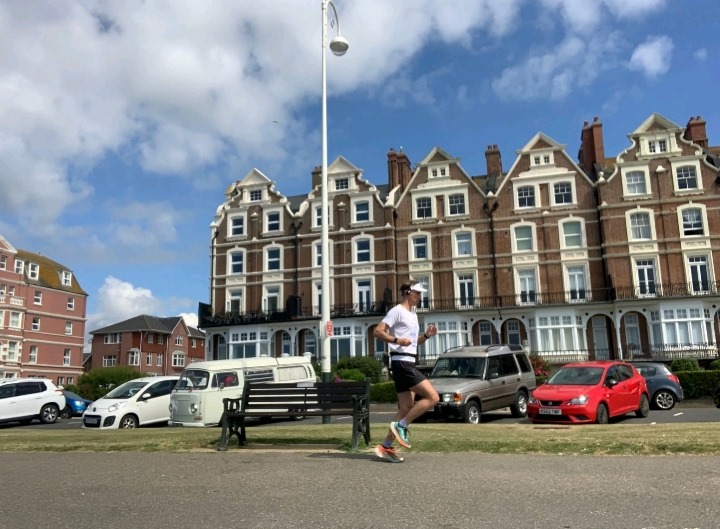 LEG 2:   Jamie Webb produced a very fast time of 7.08, also on the seafront, for the Marauders; but this was soon eclipsed by Patrick Healey whose estupendo 6.52 on the cycle path heading out to Bulverhythe took the Destroyers into the narrowest of leads. Even faster was junior Finlay Goodman with a ridiculamente rapido 6.39 for the Flyers; whilst the veterano elite Kevin Blowers clocked a very fast 7.34 for the Dynamos on Bexhill seafront. Even more impressive, as my sources tell me that he hurdled most of the bollards approaching the De La Warr pavilion and also made 2 bids on Ebay without breaking stride!
Destroyers 13.43; Flyers + 2secs; Marauders + 14secs; Dynamos + 1.09

LEG 3:   Another very consistent run by Destroyers' Andrew Watson whose time of 7.27 extended his team's lead over the Flyers, for whom Martin Turner turned in his best relay performance to date with 7.55 – also on Hastings seafront. Nick Brown had a full team of paramedicos in attendance, and had to work hard to clock 7.47 for the Marauders along the undulating lanes of Northiam. No such worries beset Dynamos' junior Nathan Jondorf who blazed out a fantastico 3.03 opening km on Hastings seafront, before not surprisingly slowing a little to come home in a fine time of 7.14
Destroyers 21.20; Flyers + 28secs; Marauders + 34secs; Dynamos + 56secs

LEG 4:   Neil Jeffries kept the Destroyers in front with a well paced 7.41; whilst Paddy Devlin crept inside this time with 7.26 for the Dynamos (both on Hastings seafront). Richard Coates produced yet another fine run for the Flyers with 8.00; whilst another fantastic run by velocista escoces Susan Rae (also on Bexhill seafront) in 8.34 for the Marauders earned her a massive 86% age grading
Destroyers 28.51; Flyers + 47secs; Dynamos + 51secs; Marauders + 1.27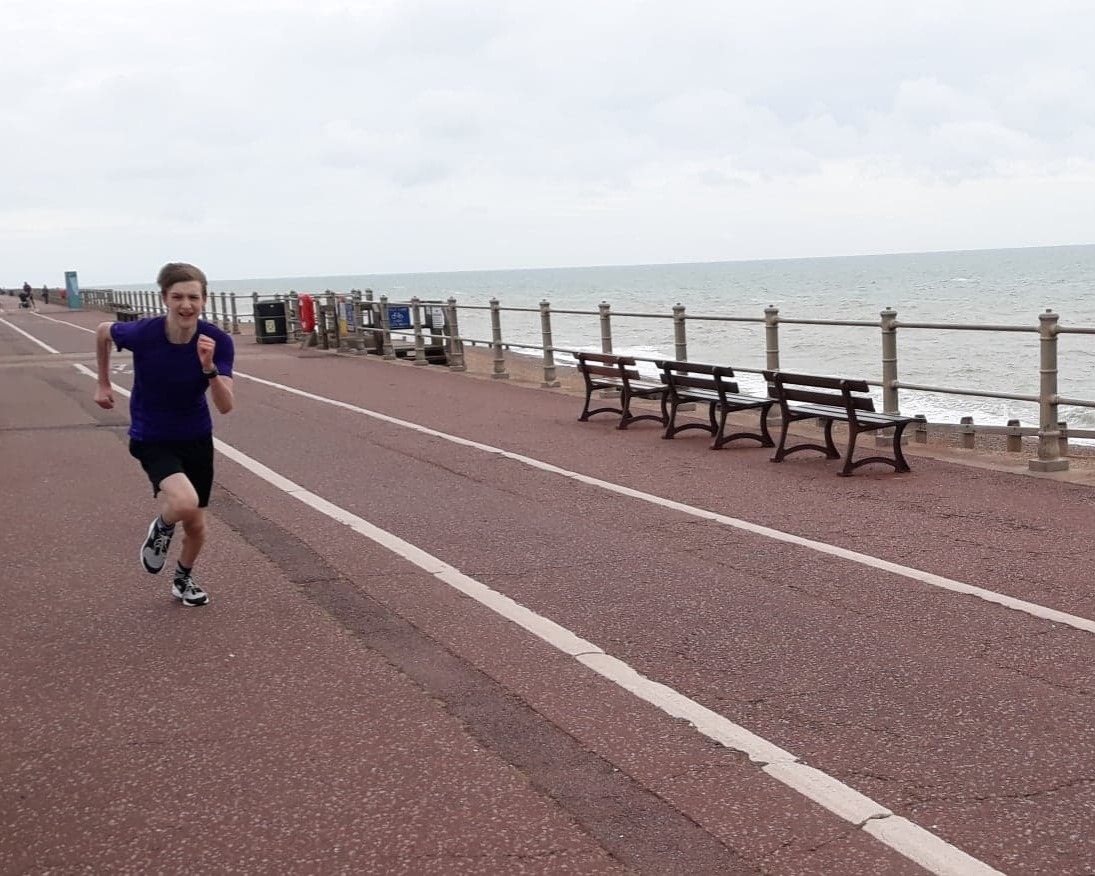 LEG 5:  Matt Smith maintained the Destroyers' momentum with an excellent 7.59, doing a few vueltas of The Polegrove in Bexhill. He had spotted GB Paralympic wheelchair athlete David Weir whilst warming up, but quickly abandoned any notions of trying to keep up with him! Michael Norris, complete with pacing crew, also returned a fine time of 7.59 on Hastings seafront to keep the Dynamos in touch; whilst Glenn Read continued his recent improvement with 8.40 for the Marauders. Another amazing relay leg by junior Oliver Goodman, whose time of 7.57 on the trails near Bodiam Castle featured a leg cadence of around 220 por minuto!

Destroyers 36.50; Flyers + 45secs; Dynamos + 51secs; Marauders + 2.08

LEG 6:  A decisive seafront leg by Destroyers Berenice Consavela in 8.40 has really put the gato amongst las palomas, giving them a lead of nearly 2mins. A solid run by junior Romey Jondorf (also on the seafront) in 9.41 keeps the Dynamos in 2nd; whilst another improved run by Krista Barzee (complete with pacing crew along the seafront) in 10.36 keeps the Flyers in 3rd, just ahead of the Marauders for whom Jane Hughes ran an excellent time of 9.18 on Bexhill seafront
Destroyers 45.30: Dynamos + 1.52; Flyers + 2.41; Marauders + 2.46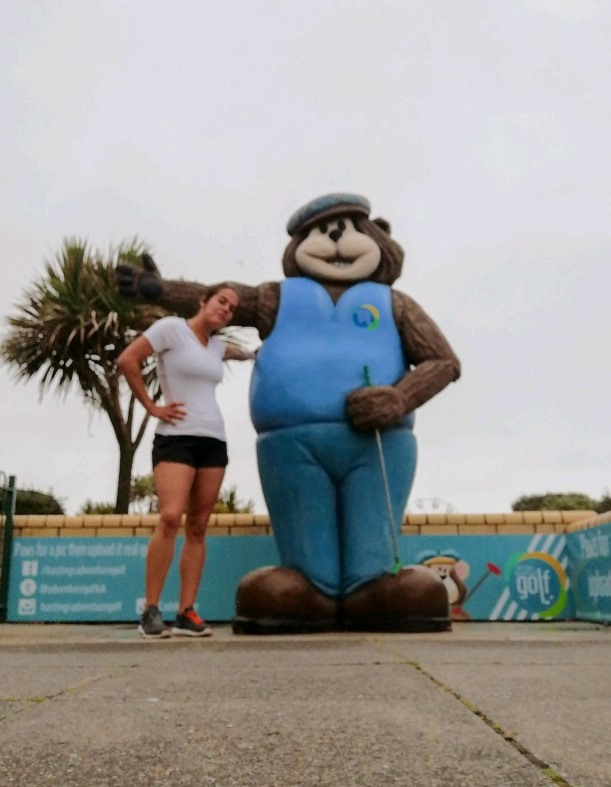 LEG 7:  An improved time too along the seafront from Margaret Balch in 10.41 for the Flyers; whilst Leonora King was also on the upgrade for the Marauders with 10.17. Dynamos' Ruth Spiller and Destroyers' Ashley Ballard both clocked 9.56; so the Destroyers still hold a very healthy lead going into the ultimo leg
Destroyers 55.26; Dynamos + 1.52; Marauders + 3.07; Flyers + 3.26
LEG 8:  A much improved performance from recent Flyers' debutant Krissy Ivanova with 12.08; whilst that evergreen Masters relay campeon Christine Sanderson ran an amazing 11.08 for the Marauders (both on Hastings seafront). Another runner to continue improving is Dynamos' Susan Mann who produced her quickest 2kms time to date in 11.55. That just left Amanda Moore who coasted home, also in an improved time, with 11.15 to give the Destroyers a comfortable win. 
Many congrats to Dan's Destroyers whose winning time was 1.06.41; followed in by Darren's Dynamos 1.09.13; Matt's Marauders 1.09.41; Finlay's Flyers 1.11.00. So the Destroyers, Flyers & Marauders all have 2 wins apiece now.
Relay no.7 will run Wednesday to Sunday evening. We have several new runners who would like to join in, but we need another couple of runners to balance up the numbers. Please email nickbrownrunning@gmail.com   Best wishes, Nick Brown