Some great performances at the weekend with Yolanda King, following up her 19.03 5 kms pb and ladies win at Hastings parkrun on Saturday by finishing first lady in Sunday's Rye 10 miler in an excellent chip time of 69.23 over what is a punishingly hilly course.
Club mate Zoe Fairclough finished a very close 3rd in 69.50, coming in just 3 seconds behind the runner-up. Martin Snape was the leading club member in 10th place in a time of 66.55, just ahead of Kieran Price in 66.57, Paul Lambert 69.16, Paul Burchett 73.00, Ben Park 73.34, Kevin Blowers 73.44, Neil Jeffries 74.54, Richard Towner – Roethe 76.50, Andy Knight 79.48, Sarah Bendle 82.38, Andy Alabaster 83.28, Ben Sallows 85.24, Simon Weatherley 87.55, Robert Dennis 88.39, Annette Fry 91.24, Lucie Smitalova 92.41, Keith Goodsell 93.27, Marie Crawford 93.59, Danny Ratnarajah 94.57, Sue Wilkinson 101.22, Stephen Slater 101.25, Klare Beecroft 101.39, Sue Alabaster 101.42, Yockie Richardson 105.54, Tracy Ratnarajah 107.14, Samantha Welfare 107.51, Louise Cavill 107.52, Krista Barzee 109.35, Shana Burchett 109.58, Hayley Ranson 115.42, Erica Wilson 135.08 – all chip times.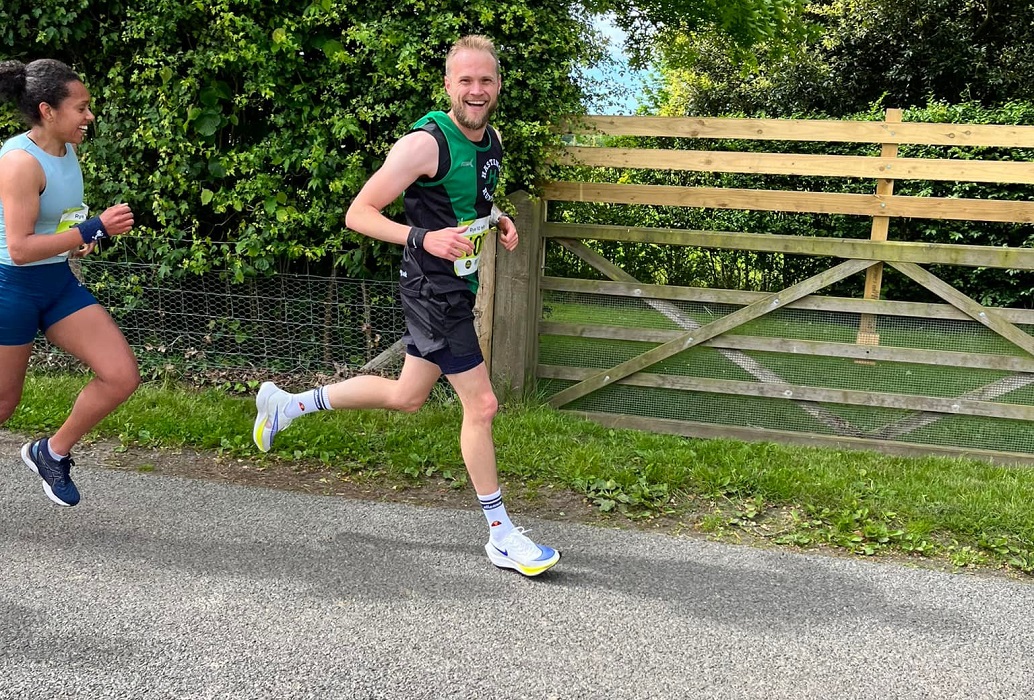 There were age category wins for Paul Burchett (MV45), Kevin Blowers (MV60), Robert Dennis (MV75), Sarah Bendle (FV45), Annette Fry (FV50) and the evergreen Yockie Richardson (FV75), as the club fielded 33 out of the 146 runners.
After a comfortable Hastings parkrun success in 16.34, Will Withecombe also pulled off a double by winning the Rye 5 mile event in a time of 29.36 which was an amazing 4 minutes faster than his victory in the race last year. Other HRs in the field of 32 were David Fairclough 43.06, Hannah Towner – Roethe 44.52, Adam Holland 48.06 and Joanne Fellows 60.19.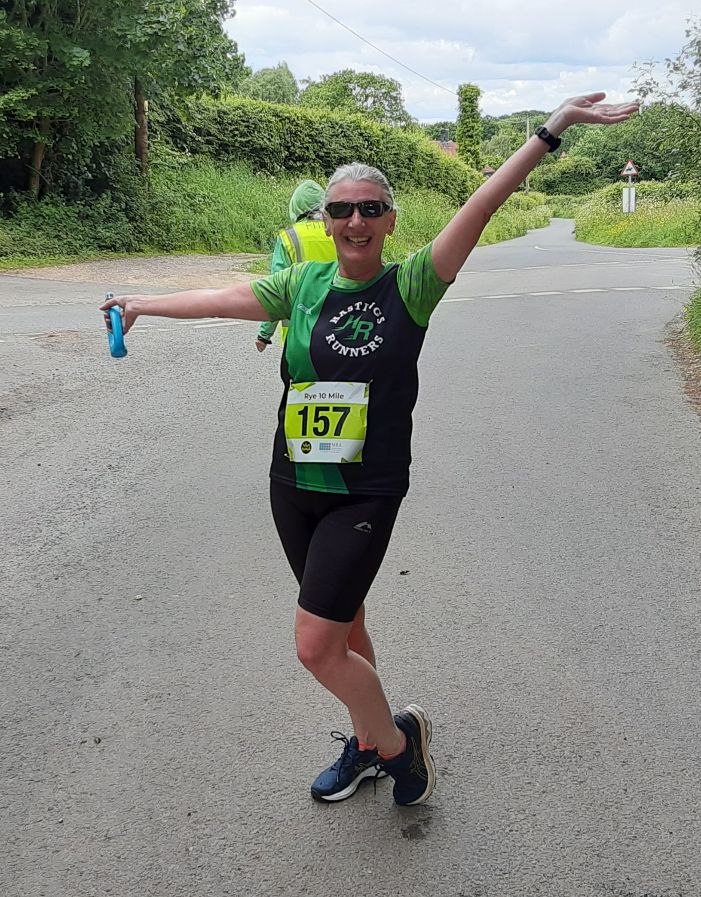 Many congrats to club secretary Andy Lee who recorded a superb time of 19.35 at parkrun to knock a full 25 seconds off the Hastings MV65 category record! There were also pbs for Andrew Shipilov 19.42 and Adam Holland 25.44.
Helen Rothermel achieved a new half marathon PB of 2 hours and 1 second at the Edinburgh Half Marathon. Also making the long trip north of the border were Nick Thompson (2:26) and Rick Burne (2:07).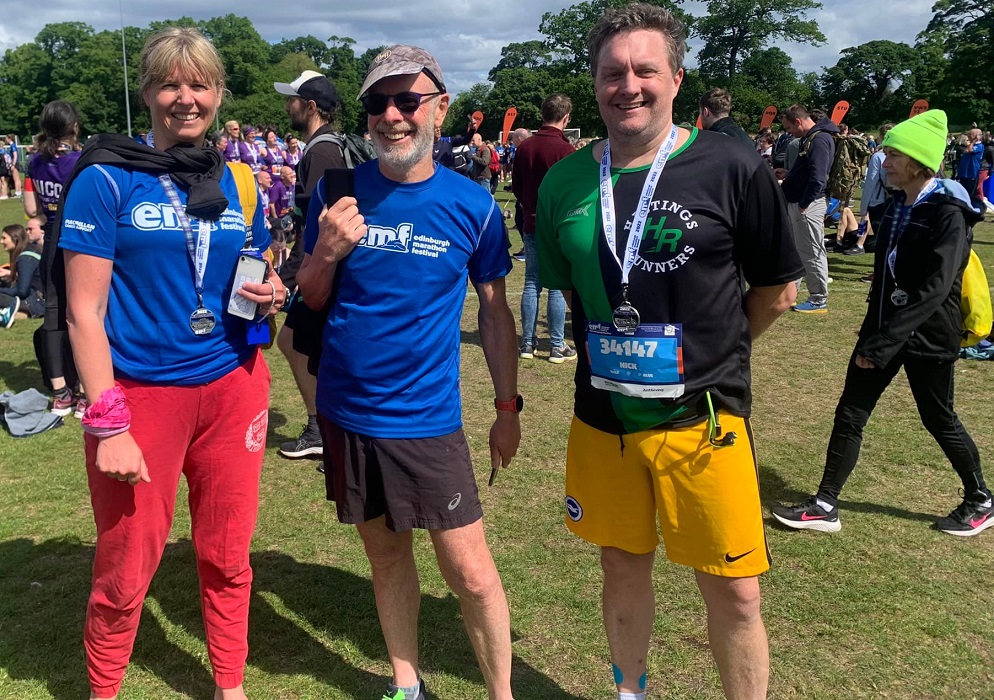 Jacqueline Mannering and Darren Kilby were spotted outside Arundel Caste at 5am on Sunday morning. There was another sighting later that evening in Eastbourne. The first assumption was the traffic must have been bad, but the two of them actually ran the 102km as part of the UK Ultra South Downs 100k. In the process Jacqueline scooped up first place in her age category.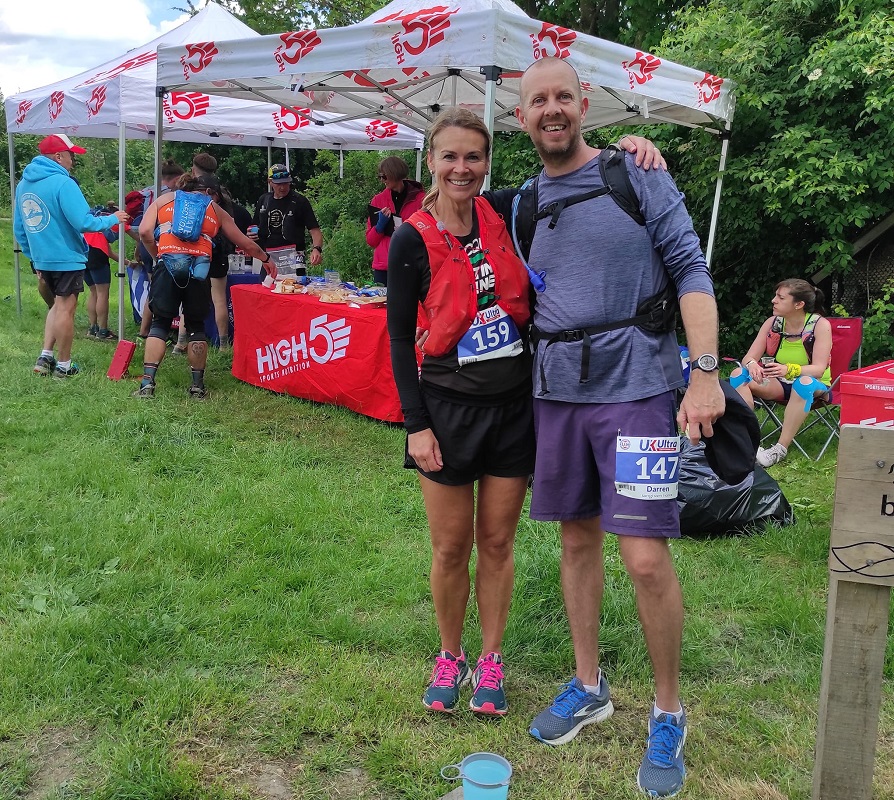 Husband and wife duo Sharon and Paul Wadham, flew the green and black flag at Arundel on Saturday morning, completed the scenic undulating 10K route in just over an hour.