If they'd told us in advance that there were free jelly babies at the end, I might have run faster. The first male and female Hastings Runners home at the inaugural Great Northiam Run 10k, though, needed no such motivation… Many congratulations to HR stars Kieran Price (third overall in a time of 41 minutes 36 seconds) and Susan Rae (second female, first in age category and 15th overall in 49 minutes and 25 seconds).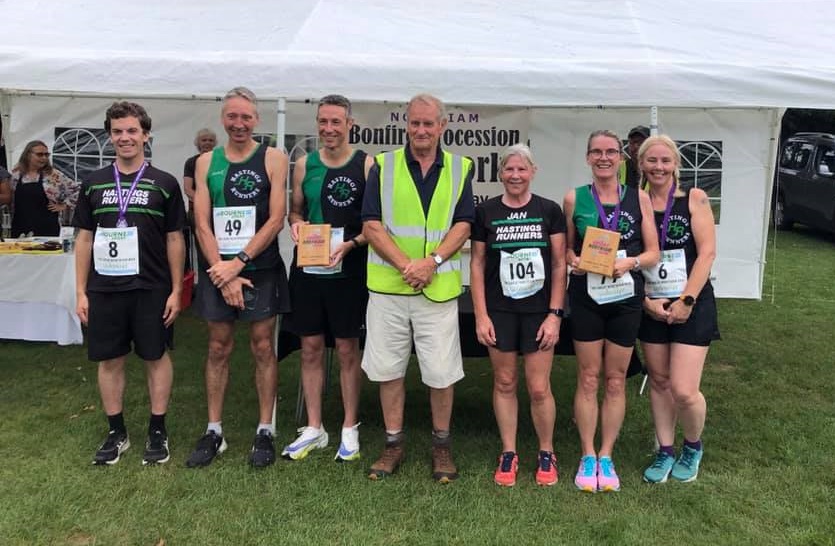 The event was a logistically simpler replacement for the Northiam to Bodiam Castle point-to-point. Think of it as a Northiam hill-to-hill via Ewhurst Green (171m ascent). The Race Director was Eric Hardwick MBE – Mr Hastings Half Marathon, so no stranger to making people run up hills – who was overheard admitting to Kieran in advance of the start that the course was "er, a bit harder" than its predecessor.
Nick Brown – who took pictures at the 2k/8k point – put it more matter-of-factly: "A tough course with some severe climbs." But hey, we're from Hastings so we know all about that, right?
Kieran and Susan were followed to the finish line by the alphabetically arranged Determined Dozen of Krista Barzee, Patrick Bermingham, Louise Cavill, Richard Cross, Bill Edmondson, new recruit Robert Gagyi, James Graham, Ian Lee, Catherine Southgate, Simon Weatherly, David Witcombe, Jan Young… and yours truly.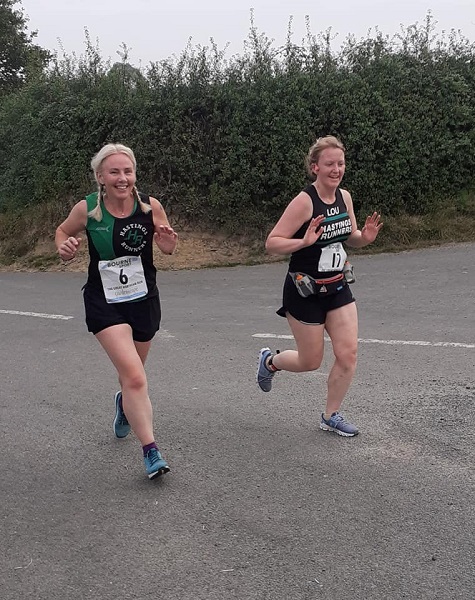 With 14 tops to be seen, Hastings Runners was easily the best represented club in the field of 87 – a fact which helped us pick up both the male and female team awards.
10K is never enough for our 100 Marathon Club representative Sarah Marzaioli who completed the Hampton Court Palace Half Marathon in 2:10:47.  Sarah described it as a "great race" which started and finished in the Palace grounds.
The Great Northiam Run was the 11th of 19 races in the 2021 Hasting Runners Club Championship race calendar. The 12th is next Sunday: the 11-and-a-bit-mile Rye to Hastings.
Neil Jeffries