As tea time approached the first eager runners arrived at the foot of Galley Hill for our 2nd club only race in what seemed an eternity. Alan Croucher was on hand to deliver instructions for the kind natured marshalls, who had given up their evening to guide us safely to Cooden Beach Hotel and back, whilst offering us morale support on our journey.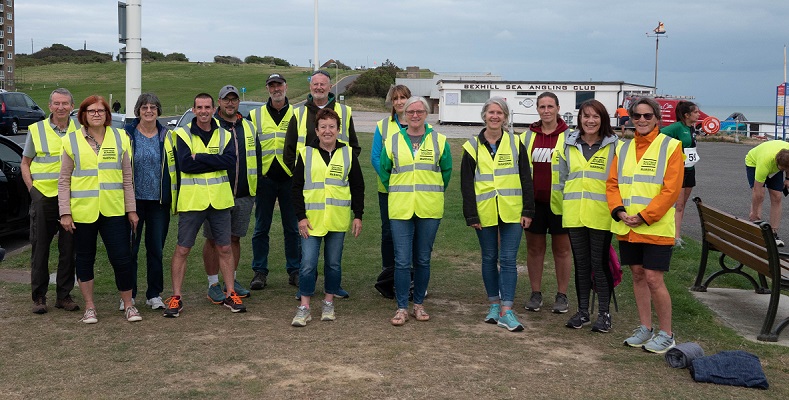 As the minutes ticked by, more green & black vests began to emerge from their cars. Warm ups commenced, ranging from 300 meters to the toilet and back, right up to 2 miles. As the front runners laced up their Nike Vaporflys, the rest chatted with old friends to ease pre race nerves.

We made our way to the start line, unsure exactly where it lay. Our Vice Chair Susan Mann was on hand for some last minute instructions and to count us down. 3-2-CAR!!! The good natured spirit of Hastings Runners took over and the crowd parted to allow the patient driver through. This time Susan changed her approach, 1-2-3 and we were off. Steady pacing appeared to take a back seat as a few sprinted off the start line. Logic soon took over and the runners found their natural pace. The cool temperatures on this late summer evening offered perfect running conditions, only hampered slightly by the moderate northerly wind. Combined with minimal elevation, this was a recipe for fast times and PBs. The Black & Green brigade certainly didn't waste this opportunity.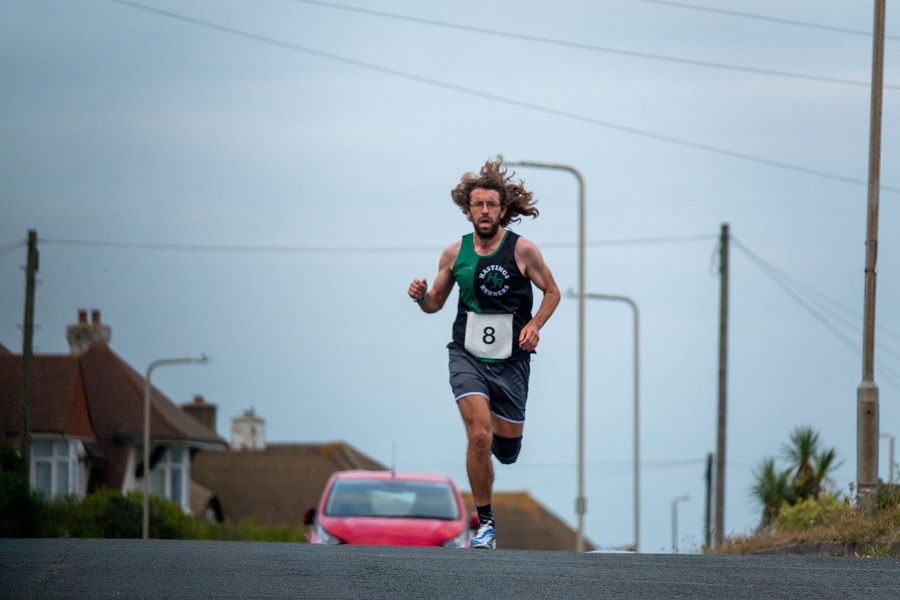 A real spectacle of a race was developing at the front of the field. Defending champion Jack Madden was back in an attempt to retain his title, fresh off a 5K PB at Hastings parkrun on Saturday morning, his confidence was high. 
But it wasn't going to be easy. Newcomer Will Withecombe who has been mopping up race titles all summer was keen to add to his trophy collection. Alongside Colin White, who himself had smashed nearly 30 seconds off his 5K PB just five days earlier, the trio arrived at the turnaround point together, the race was on and what a race it was.
It was only with 300 meters to the finish line that Jack was able to pull away, completing the course in an amazing time of 36:05. Will had pushed him hard, coming up just 5 seconds behind. Colin added to his 5K PB with another personal best, finishing in 36:49 and with it, landing the Vet's prize. Superb running, a great advert for our fantastic club.

The female race was won by Claire Thomas who ensured she took the Barry Richards Shield home with her for another 12 months. Claire finished in a cracking time of 44:54, running much of the course with her good friend Susan Rae.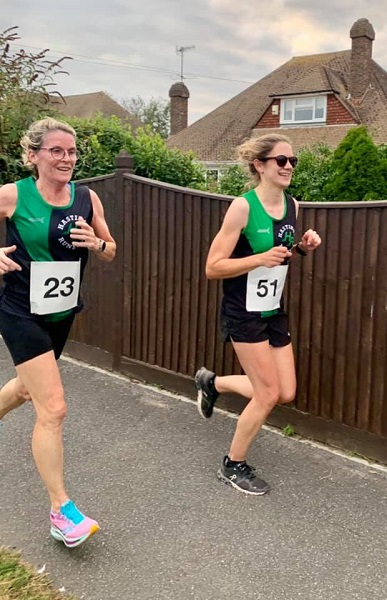 Susan added to her recent list of accolades by claiming 2nd Lady and 1st Old Lady (her words not mine). Let me rephrase that, 1st Female Vet (that's better). Her time of 45:53 was another personal best. 
They weren't the only runners to land a 10K PB. Martin Snape ran a sub 40 for the first time. Simon Linklater (me, the author) sneaked a Top 10 finish in 41:53. Kevin Blowers used me as a human shield to protect himself from the zephyr for the first 3 km and let out a roar as he crossed the finish line, setting his 10K record in 42:24.

Simon Weatherly produced the most exciting finish of the evening. Head to head with Matt Smith approaching the final 100 meters, they sprinted towards the line like two Olympians battling it out for a place on the podium. The result, a new PB of 50:21 for Simon.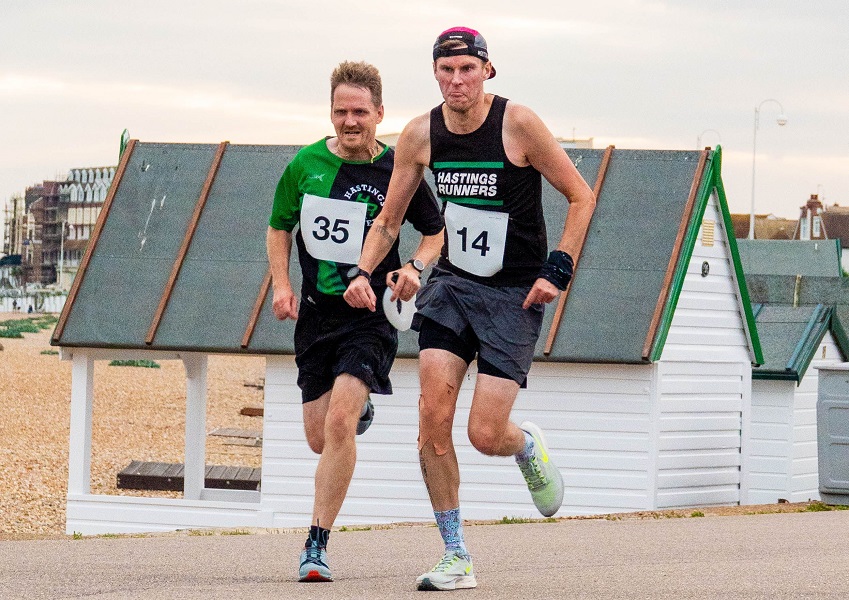 Marie Crawford overcame her own showdown, not with a fellow runner, but an angry seagull who chose to bosh Marie on the head as she gathered up speed towards the line. Not even this surprise assault could stop her from a new 10K PB in 53:01.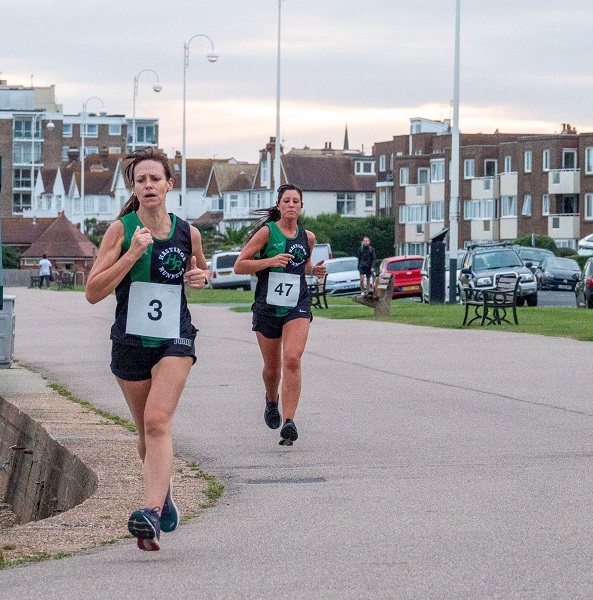 Barry Richards 10K Times:
Jack Madden 36.04
Will Withecombe 36.10
Colin White MV40 36.47
Keiran Price 39.36
Martin Snape 39.44
Paul Burchett 40.18
Jamie Wilkinson 41.33
Martin Noakes 41.3
Simon Linklater 41.54
Kevin Blowers 42.3
Graeme Grass 43.53
Neil Jeffries 44.06
Claire Thomas 44.00
Susan Rae 45.52
Ben Sallows 46.15
John Simcox 46.26
Lewis Wadham 47.14
Paul Gallop 47.30
Andy Knight 47.57
David Harding 49.34
Dean Fox 49.47
Ashley Sapsford-Brooks 49.51
Matt Smith 50.04
Simon Weatherley 50.04
James Graham 50.14
Matt Beaver 50.43
Darren Owen 51.57
Bill Edmondson 52.28
Paul Baxter 52.53
Lauren Coleman 52.57
Marie Crawford 53.02
Rachael Inns 53.05
Nick Webb 53.24
Mike Addison 53.32
Steve Slater 54.03
Jan Young 54.38
Mike Ellis 55.57
Sue Quincey 56.02
Sharon Wadham 56.58
Paul Wadham 56.59
Ellie Swaine 57.10
Krista Barzee 58.08
Lilly Share 59.21
Jacquiline Scott 59.45
Shana Burchett 59.56
Samantha Welfare 1.00.49
Michelle Krombholz 1.00.50
Kim Callow 1.01.13
Alan Croucher 1.10.18
Louise Cavill 1.02.30
Marie Appleton 1.02.43
Henry Worthington 1.30.33
Linda Beddis (Sweep) 1.30.33
The whole evening was a huge success. Well done to all those involved. If you ran a PB and I haven't included you, then get in touch, especially if you had any mid race altercations with an irate animal. Thank you to Alan and his team of volunteers, without their help, these races would never be possible.
See you all at the next one.

Simon Linklater. Communications Officer.