12 Hastings Runners took part in the rearranged Rye 10 miler on Sunday. The route is regarded as one of the toughest in the local racing calendar with over 1000 feet of elevation. The race had a slightly different feel with new regulations in place. Something about a virus or other.
Runners headed off in groups of 12, spread across a 2-hour starting window to ensure social distancing was maintained. The organisers Nice Work received glowing reviews from those that took part.
Warm summer temperatures, in excess of 20 degrees, made the challenge even tougher, but there were some excellent performances.
Martin Snape produced the best time among the Hastings Runners entries, finishing in 1:11:50. Simon Linklater improved his time from last year by over 10 minutes, crossing the line in 1:17:45. Paul Gallop continued his recovery from a nasty injury with a fantastic time of 1:20:40.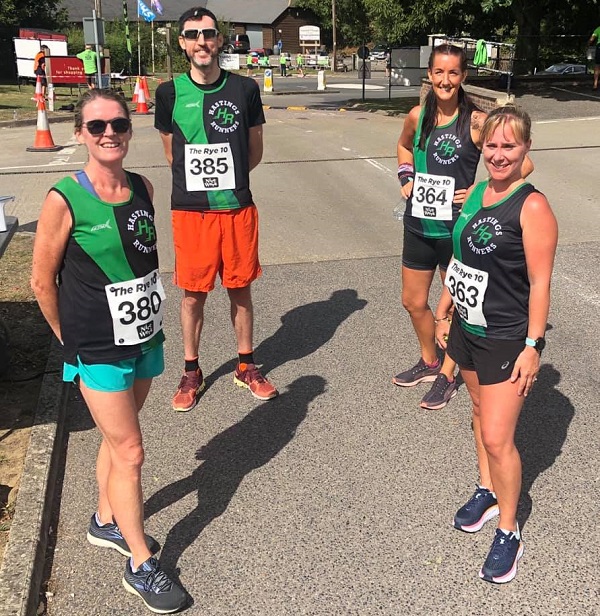 Susan Rae failed in her attempt to keep up with Simon, but received the consolation of an age category award (again) and beat her previous best 10-mile effort by 8 minutes, finishing in 1:23:14.
Sue Wilkinson landed her first-ever age category win, taking the top spot in the FV45 bracket in a time of 1:46:17.
Spurred on by her running buddy, Elly Swaine produced an 8 minute PB in 1:42:48. Emma Stubbs was just a second behind as they ran the whole route together, a meter apart of course. Both were on hand to pose for the cameras at every opportunity.
Ben Sallows was the 3rd Hastings Runner home in 1:23:20. Stuart Woolford (1:32:46),  Jenny Hudson (1:47:26), Susan Mann (1:48:14) and Terry Kitson (1:51:02) all ran strong races to make up the Hastings Runners contingent.
Thanks to Darren Barzee for riding all the way out to Rye on his bike to support us, after the race had finished 🙈
The next Nice Work race is the 15th Rye Summer Classic Series 5K Race Three. It takes part at Rye Harbour on Friday the 4th of September. Runners can select their desired start time ranging from 5.30pm – 7.00pm.