As the summer draws to a close and the nights draw in, the Green & Black army were out in force at the weekend. From the 5K Rye Summer Series on Friday, to the Brighton Marathon on Sunday. The challenges may have been hugely different, but the one constant was the Hastings Runners vest, worn with pride and style.
Rye Harbour was the destination on Friday evening for the final event of the Summer Series. A 5k dash out towards the Nature Reserve and back to the finish in front of the Sailing Club. Battling an on-going calf injury, Will Withecombe put up a brave fight to finish in 4th place in a time of 18:27.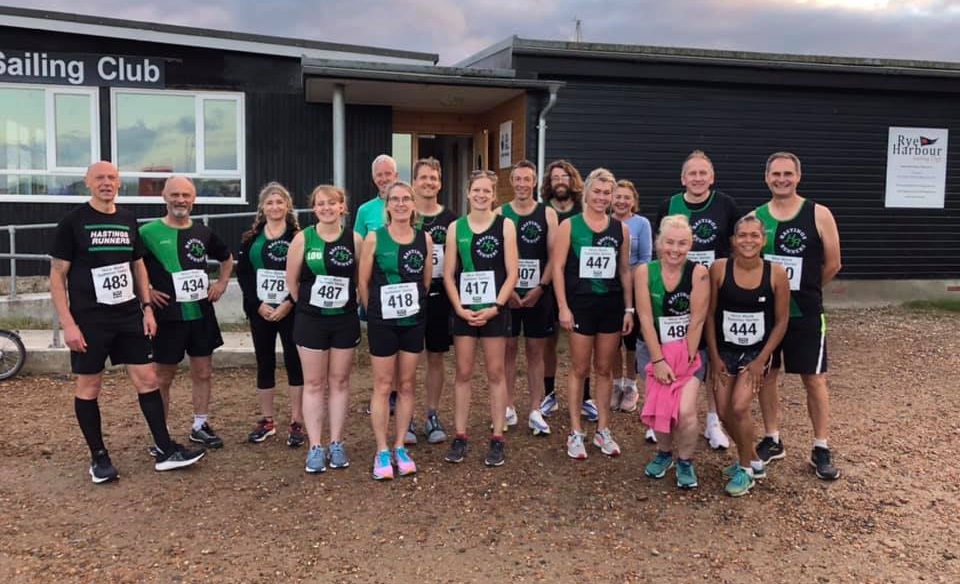 Hastings Runners at Rye 5K Summer Series.
Kieran Price continued his fine summer with yet another PB, crossing the line in an excellent time of 19:08 and 7th place overall. Claire Thomas was the 1st female Hastings Runner to finish, clocking another impressive 5K time of 21:09. There were personal bests for the racing machine Nicola Steed (21:56), the PB queen herself, Susan Rae (22:06), karaoke king Michael Norris (21:06) and newly promoted top group track star, Simon Weatherly (23:27).
A different breed of runner headed to Rye just over 36 hours later to tackle the Rye Ancient Trails. I was fortunate enough to participate in this event myself and it was a superb route, linking the Norman churches of Rye, Iden, Beckley, Northiam and Peasmarsh. We ran through vineyards, woodland, footpaths, trails and quiet country lanes. Some of our very own club members were on hand to help out the flawless organisation by Nice Work and Running Forever, offering encouragement and refreshments to those of us taking part.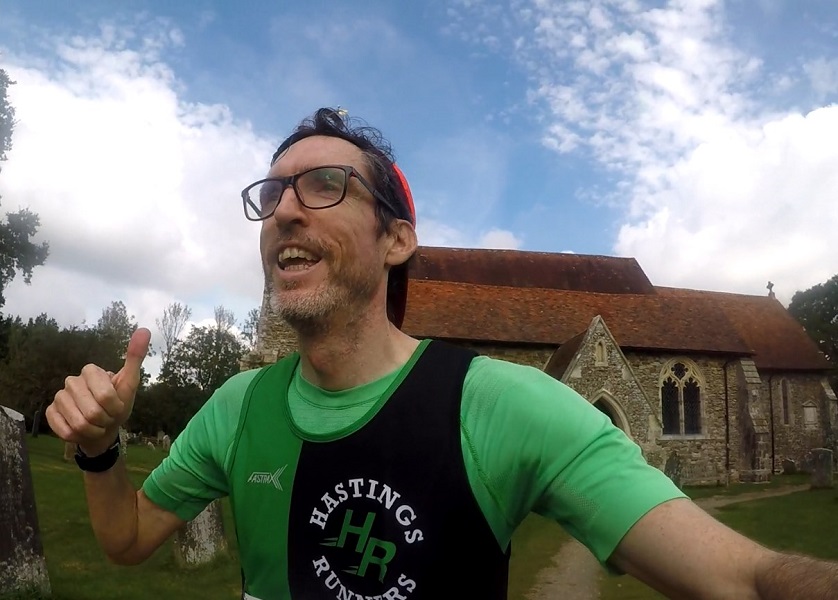 Simon Linklater at Rye Ancient Trails 30K.
In the 15K race Simon Newstead came home in 7th place in an impressive time of 1:12:29. Despite a less than ideal preparation the previous night, Kevin Blowers smashed it with a time of 1:20:33 to claim 1st place in his Age Category. In the 30K event I was delighted to cross the line in 2:50:23 and a finishing position of 32nd. Hot on my heels and 2nd in her age category was Sally Grainger, comfortably under the 3 hour mark, by a whole 2 seconds, nicely timed Sally.
50 miles along the coast a select group of Hastings Runners completed an additional 10k to finish the Brighton Marathon. It was great to see Jamie Kennedy back in his Green & Black vest, sneaking under the 4 hour mark. Matt Smith, Rob Thomas, James Graham, Lewis Wadham and Lily Share also took on the course, which due to a misplaced cone at a turnaround point, was 600 meters too long. Oops.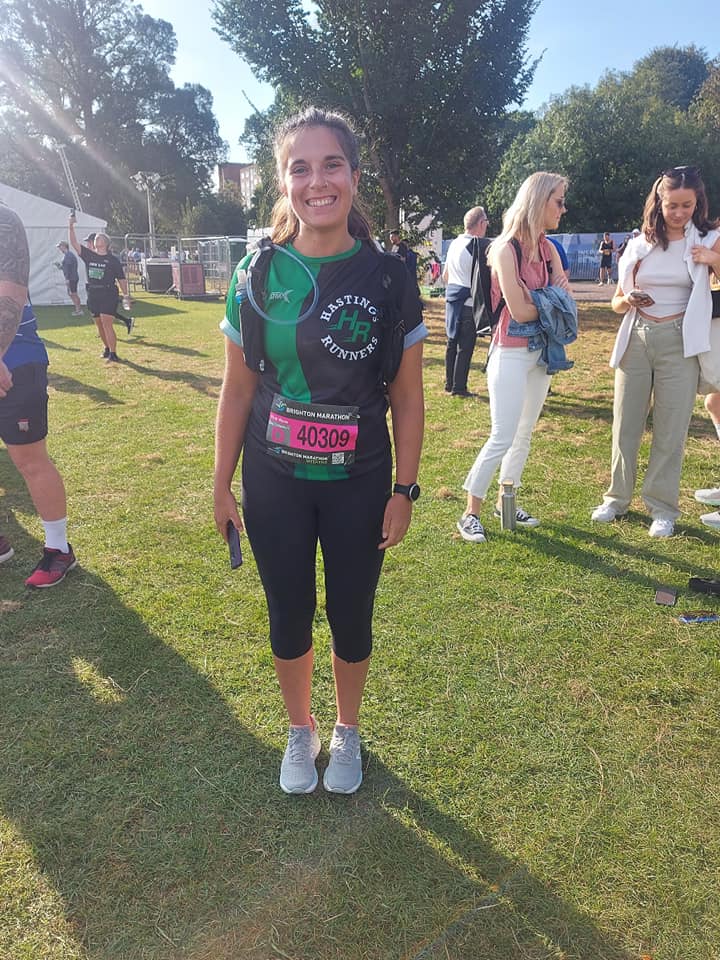 Lily Share at Brighton Marathon. Photo by Sharon Wadham.
In slightly cooler temperatures Marie Appleton and Danny Firth both completed the Great North Run. Results from those two events are hard to filter by club, so if I have missed anyone out, please let me know.