A magnificent turnout for the club's 5 kms event on Wednesday 27th April, with 76 taking part in the evening seafront race despite the chilly conditions.
The out and back course from Grosvenor Gardens was diverted via Bottle Alley after a last minute switch, owing to a road traffic accident which caused the top prom to be blocked.
Another tremendous run from star junior Finlay Goodman (aged 13) who coasted home in 16.58, nearly a minute clear of runner up Ashley Vora, followed in by Adam Weller in 3rd and Finlay's dad Mark in 4th.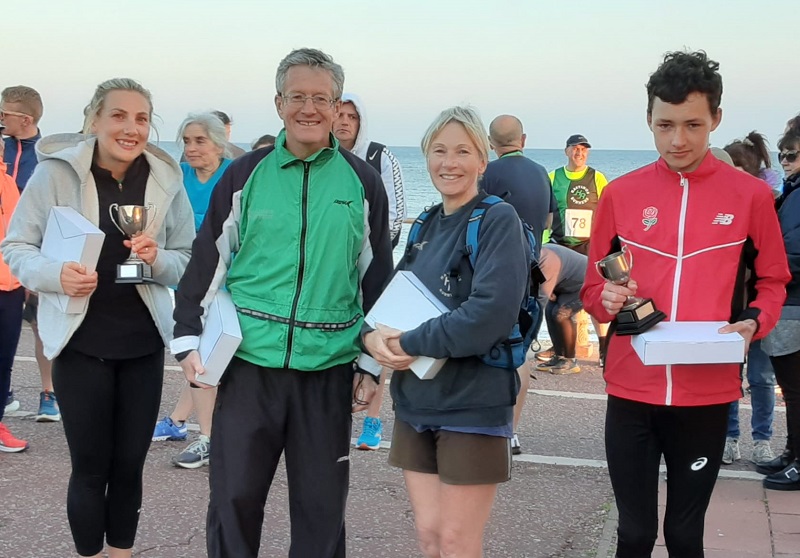 An excellent run by 8th placed Zoe Fairclough in 20.11, who was the first lady home. 5th placed Kieran Price took the male vet's prize, whilst the evergreen Sally Grainger claimed the ladies vet's award.
Club chairman Nick Brown said:"It was very encouraging to see no fewer than 18 runners taking part in their first club race. Many thanks to race director Nick Webb, and to chief marshal Alan Croucher and the rest of the volunteers."
The debut runners were juniors Amy & Sophie Ashby, Lewis Betts, Romey Jondorf; and adults Klare Beecroft, Sean Dwyer, David Fairclough, Joanne Fellows, Nathan Godden, Sue Hull, Stephen Ingram, Nathan Jondorf, Ben Kempner, Matthew Miller, Phil Morris, Mark Storey, Adam Weller and Tamsin West.
Full results were:
Finlay Goodman 16.58;
Ashley Vora 17.56;
Adam Weller 18.03;
Mark Goodman 18.45;
Kieran Price 19.02;
Paul Lambert 19.08;
Martin Noakes 19.36;
Zoe Fairclough 20.11;
Michael Norris 20.28 pb;
Lewis Betts 20.34;
Nicki Steed 20.55 pb;
Neil Jeffries 20.56;
Nathan Jondorf 21.02;
Mark Storey 21.11 pb;
Andy Knight 21.12;
Stephen Ingram 21.31 pb;
Joe Cruttenden 21.39;
Graeme Grass 22.01;
Matthew Miller 22.17;
Ben Sallows 22.19;
Nathan Godden 22.20;
Jamie Kennedy 22.22;
Dean Betts 22.23;
Ben Kempner 22.57;
Andy Alabaster 23.04;
Matt Beaver 23.07;
Romey Jondorf 23.10;
David Fairclough 23.13;
Ben Brett 23.28;
Darren Owen 23.29;
Sally Grainger 23.33;
Jamie Hitchman 23.39;
Lewis Wadham 23.47;
Jo Nevett 24.12;
Ruth Spiller 24.15;
Sue Hull 24.23 pb;
Sean Dwyer 24.41;
Amy Ashby 24.47 (fastest time for 6 years!);
Berenice Consavela 24.59;
Glenn Read 25.24;
Rachael Inns 25.28;
Danny Ratnarajah 25.32;
Bill Edmondson 25.34;
Marie Crawford 25.38 pb;
Jessica Cull 25.45;
Klare Beecroft 25.49 pb;
Paul Wadham 26.20;
Marie Appleton 26.33;
Sue Quincey 26.34;
David Bratby 26.49;
Robert Gagyi 26.54;
Rick Burne 26.57;
Catherine Mitchell 27.01;
Phil Morris 27.07;
Sue Alabaster 27.15;
Sharon Wadham 27.19;
Jan Young 27.45;
Sophie Ashby 28.18;
Louise Cavill 28.29;
Sue Palmer 28.41;
Krista Barzee 28.51;
Julia James 29.02;
Allison Tanner 29.05;
Yockie Richardson 29.16;
Simon Woroniecki 29.21;
Christine Sanderson 29.52;
Tracy Ratnarajah 29.54;
Irene Kitson 30.12;
Alan Croucher 30.32;
Sophie West 31.01;
Christopher White 31.33;
Sylvia Huggett 32.25;
Joanne Fellows 33.41pb;
Erica Wilson 35.48;
Henry Worthington 40.10;
Hayley Ranson (sweep) 40.15.