Try as it might, the weather failed to put pay to another Club Championship race and the 2020 season got underway, 19 miles along the coast in nearby Eastbourne.
Combine the wind speed of over 20 mph and one of the toughest hills you'll find and the Eastbourne Half Marathon provided a stern challenge for the 35 Hastings Runners that competed on Sunday. It didn't stop as many as 6 Half Marathon PB's.
The first of those was recorded by Jethro Atherall who smashed his previous best time by 7 minutes. He came home in 1 hour 21 minutes and 37 seconds, good enough for 5th place in a remarkable effort.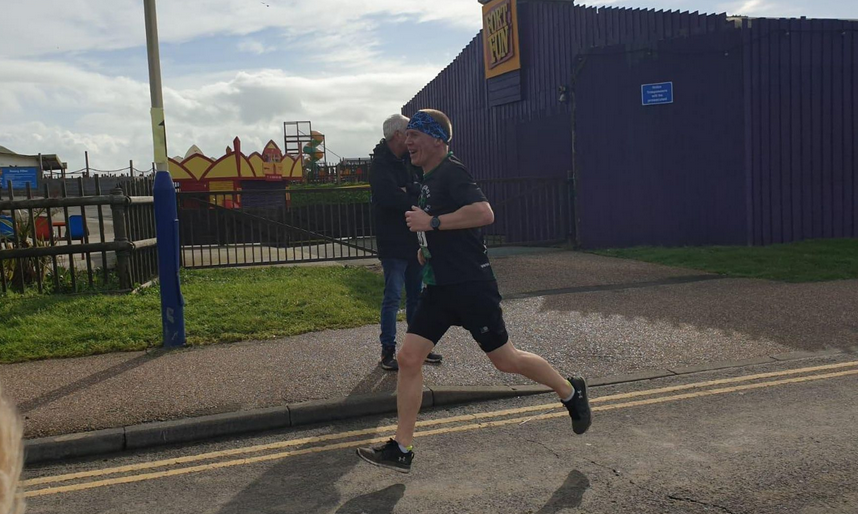 Above: Paul Lambert enjoying a day out at Fort Fun.
Dale Saxby also produced a PB of 1:25:53 and came 11th place overall. Dan Snellgrove (1:26:23) and Colin White (1:27:56) both finished inside the Top 20.
The first female Hastings Runner across the line was Debbie Humbles in 1:49:20. Sarah Bendle was less than a minute behind in 1:50:08, whilst Marie Crawford produced her Half Marathon PB and was the third female home in 2:04:49.
There were also PBs for Paul Lambert (1:34:13), Simon Weatherley (2:15:35) and Louise Cavill (2:19:09).
Also worthy of a mention is Darren Owen who completed the course dressed as Mr.Potato Head in a time of 2:08:41. An easy choice for "Photo of the Week".
We had two representatives taking part in the London Vitality Big Half.  Jamie Webb produced a PB of 1:37:12 and Nathan Gooden finished in 1:42:32.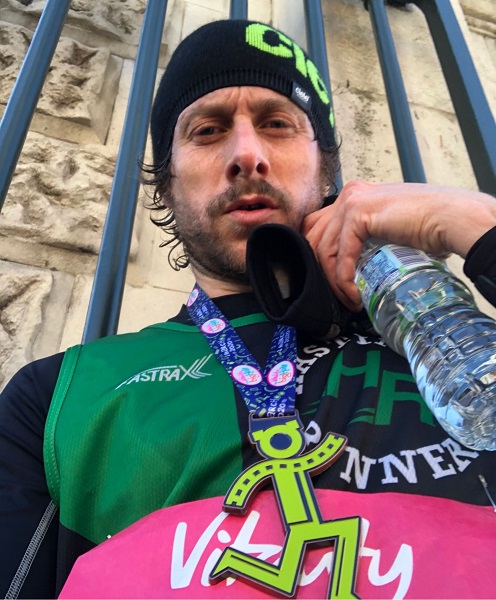 Above: Jamie Webb celebrating his PB in the Vitality Half and looking a tad scary in the process.
Jane Hughes, Ken Hughes, Julia James and Rick Burne all ran in the Cartagena 11km in Southern Spain. Jane and Julia finished 1st and 3rd in their age categories.
It was just another normal week for Marathon Queen Sarah Marzaioli who notched up marathon number 98 and 99 in the space of 4 days.  London next month will be her 100th, despite only taking up running in her 50s. Please, if you haven't already done so, celebrate this amazing achievement by making a small donation to Sarah's worthy charity, the RNLI. CLICK HERE TO DONATE. Thanks and well done Sarah!!
CLICK HERE FOR EASTBOURNE HALF MARATHON RESULTS
If I've missed you off the race report or you had a PB and would like a special mention, then drop me an email at simon@runnur.co.uk.
Simon Linklater