Congratulations to all who ran the Hastings Seafront 10k on Sunday 3 October – a grey and cool day, but dry and with a southerly breeze rather than a typical headwind on the west-bound outward 5k from the Hastings & Saint Leonards Angling Association to the turn just beyond the blue footbridge over the railway line at Bulverhythe.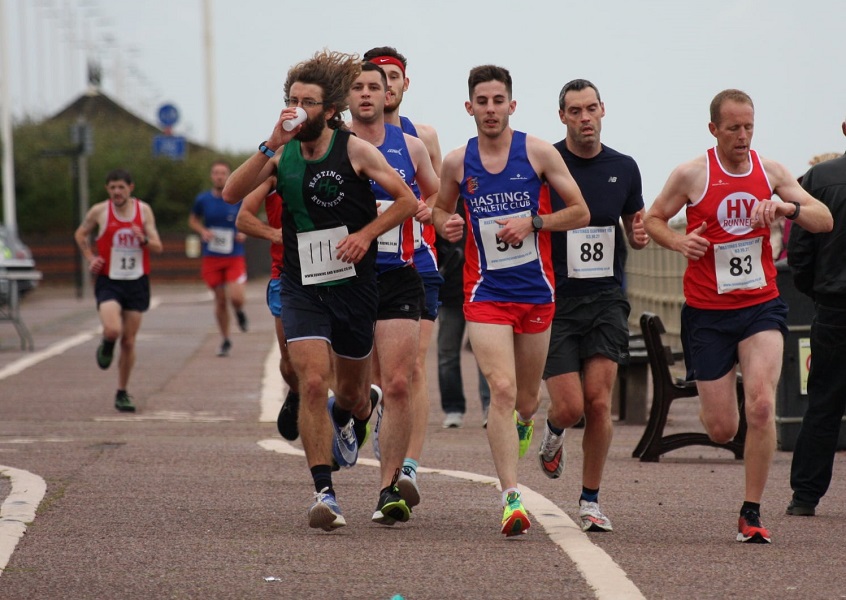 Many thanks to weather gods, then – and more importantly to the Hastings Runners who helped staff the event and/or turned up to cheer on the runners. Race organisers Running And Riding did the timings manually, so we had to wait for them to formally publish the results, but they made excellent reading when they did appear online.
We already knew, of course, that Will Withecombe had won. No mean feat on any day, but even more impressive for those among us who, having noted him disappearing into the distance at the start, didn't catch another glimpse of him until after he had turned and was heading for home. When I saw him, he was at the front of a pack of mostly red, or blue-and-red tops, all eager to catch and pass him. They never did.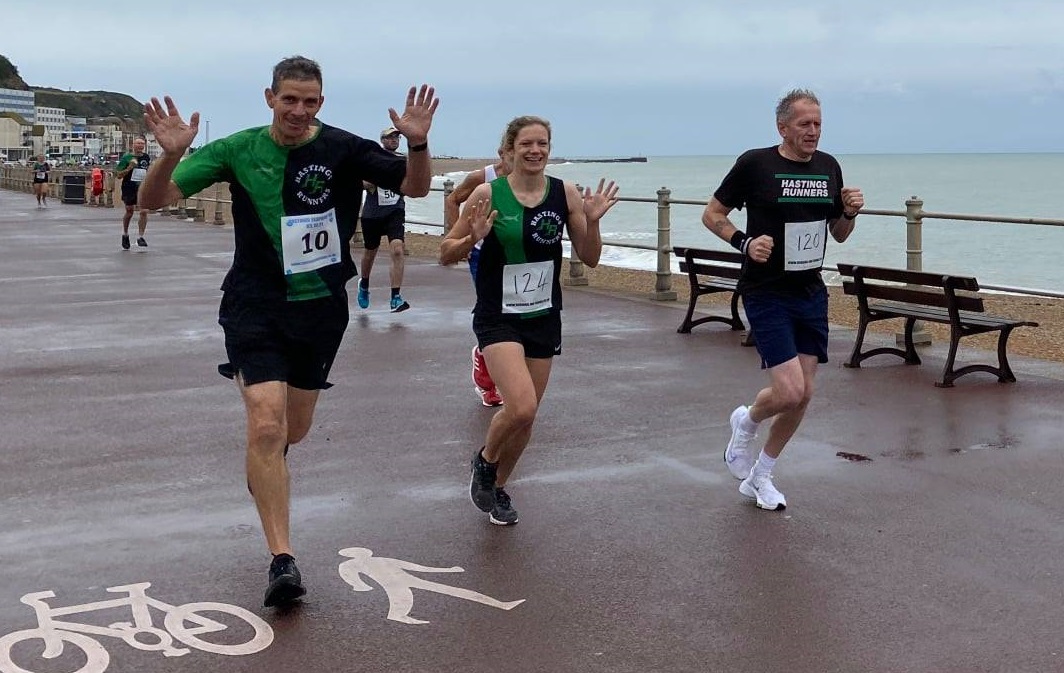 Afterwards, the second-placed South London Harrier admitted that no matter what he thought he might have had "in his tank", he could tell the man in green and black had more. Superb running, then, from a hirsute man who may look like he'd be more at home at a Black Sabbath Convention, but in reality runs as if he were escaping one.
For the three HR stalwarts a little further behind Will, the glories were just as notable. Congratulations to the next three over the line – Darren Barzee, Kevin Blowers and our fastest woman on the day, Claire Thomas. In this race, commendably, the team prize is awarded to the fastest three men and one woman. That went to Hastings AC, but our first four were just pipped by good placings for AC's second and third men.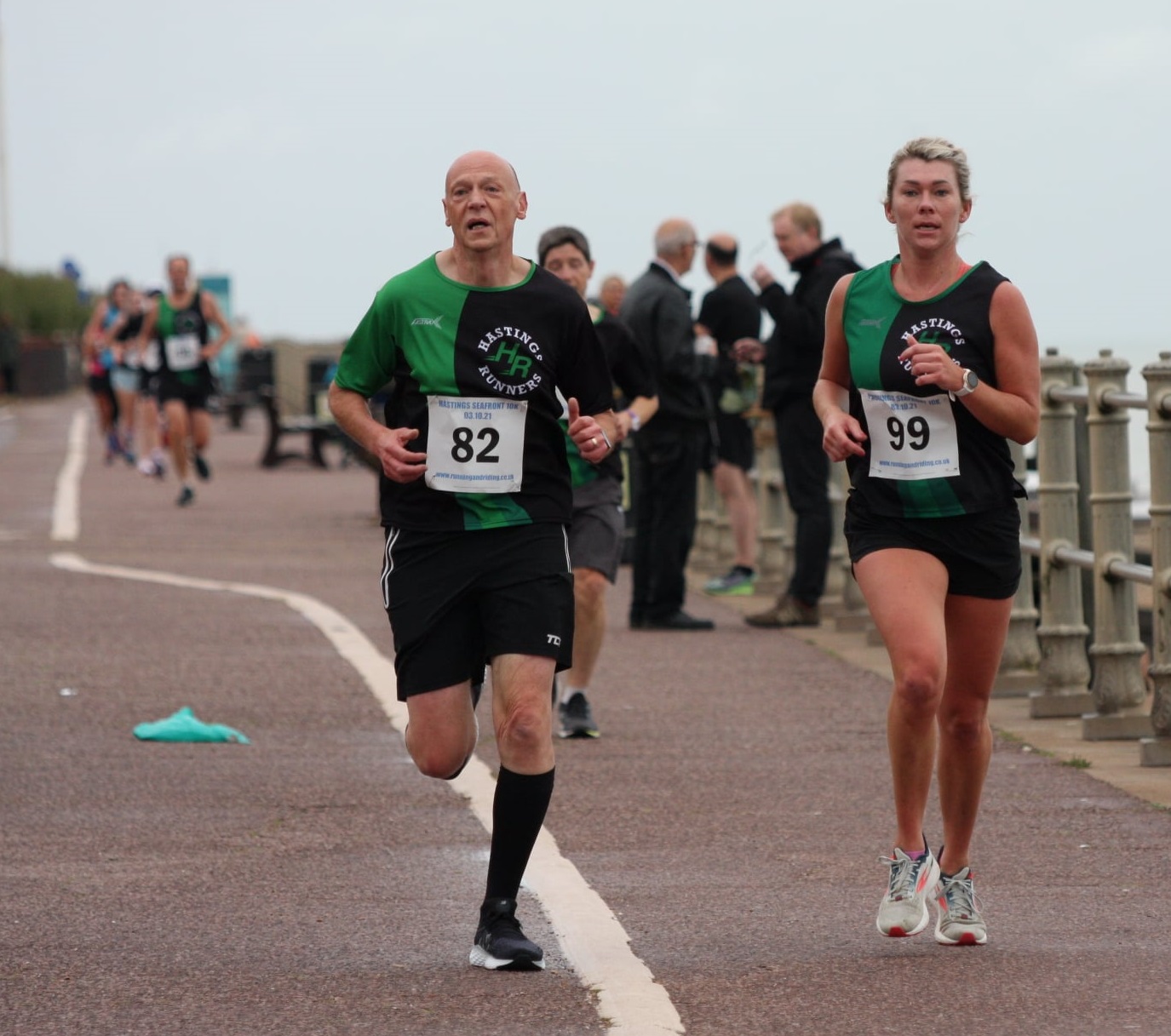 Yet what makes Hastings Runners a truly great club is its wide range of abilities and aspirations. It's never just about positions and times. It's about the support every one of us gives to others. While her partner James Graham was lining up the post-race Jaffa Cakes and drinks, Catherine Southgate was heading towards him empowered by the cheery waves and supportive shouts of fellow Hastings Runners who had passed her after their turn.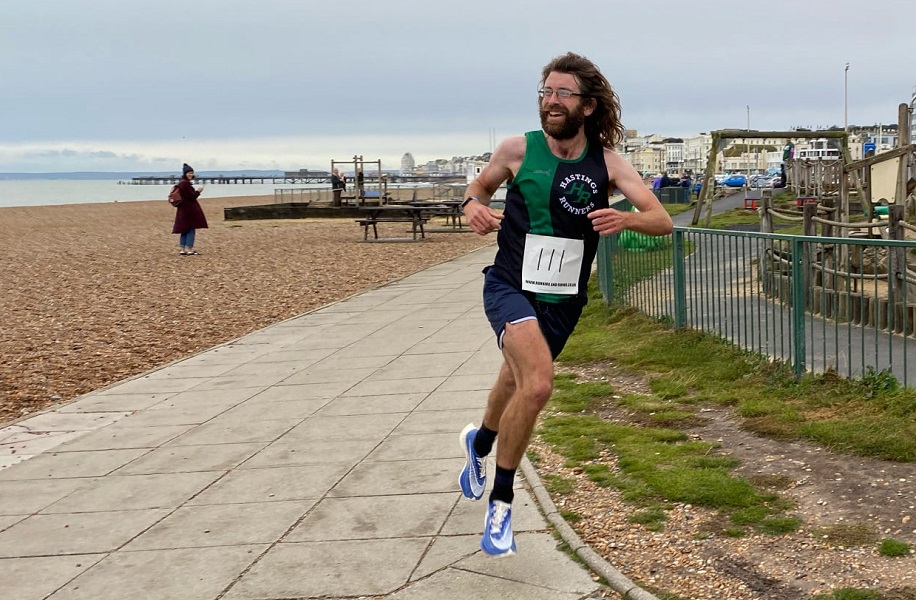 Well done, too, to Henry Worthington who – having just passed the Parkrun start on his way west – I saw take a few seconds to stop and watch the fitness class in action by The Bathing Hut Cafe. At the finish line his thoughts turned instantly to his next race as he asked about the Tonbridge Half in seven days time. Dedication everywhere you look…