I remember my first ever Hastings Runners Club Only Race. It happened to be the Spring 5K. I wasn't even going to enter, with the gloomy attitude, "it's just another parkrun", how wrong I was. Yes the distance is the same, even the route is identical, but the atmosphere and camaraderie make it a special occasion.
If you can find a friendlier, more encouraging, determined and inspiring group of individuals on a cold, wet, November morning, then I'd love to hear about them. Quite simply, you won't. Why? Because they don't exist.
For those that ran their hearts out, those who volunteered in the pouring rain, those who showed the courage to beat their nerves and run their first club only race and those who just came along to support, you are all amazing.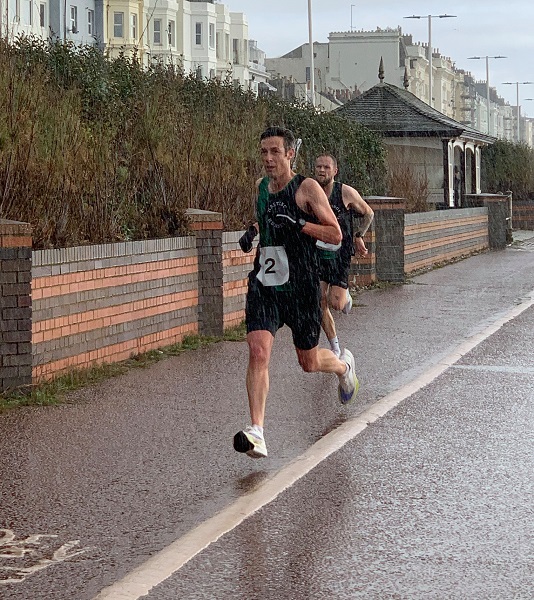 Now that we all feel a little better about ourselves, we can discuss the race itself. Will Withecombe, who himself only joined the club in the last 12 months, produced another scintillating performance to clock a 5K PB in 16 minutes and 12 seconds! That's an average pace of 3:14 per km. Mind boggling.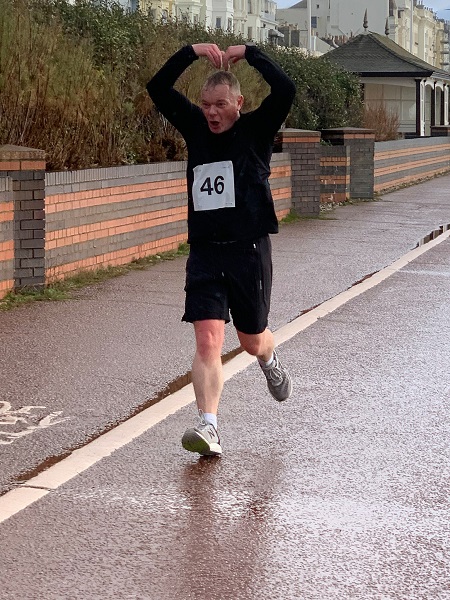 Jack Madden came home in 2nd place in 16:52, Kieran price (18:38), Martin Snape (18:46 PB) made up the Top 4 finishers. Among the 9 runners taking part in their first Hastings Runners race was Zoe Fairclough who came home in 7th overall and 1st female in a superb time of 20:22. She was followed in 2nd by Nicki Steed (21:20 PB) and another new addition to the club, Tamsin West (21:35 PB).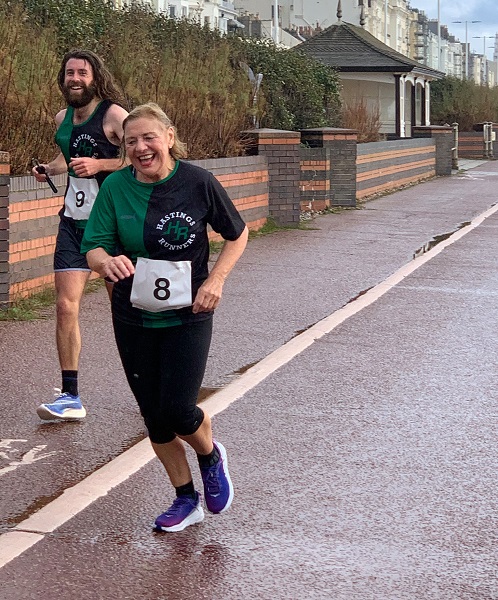 Cheryl Withecombe, Millie-Mae Mitchell, Catherine Southgate, Lucie Smitalova, Mark Dunn, Sue and Andy Alabaster were the other 7 new members completing their 1st club race. Welcome to the family.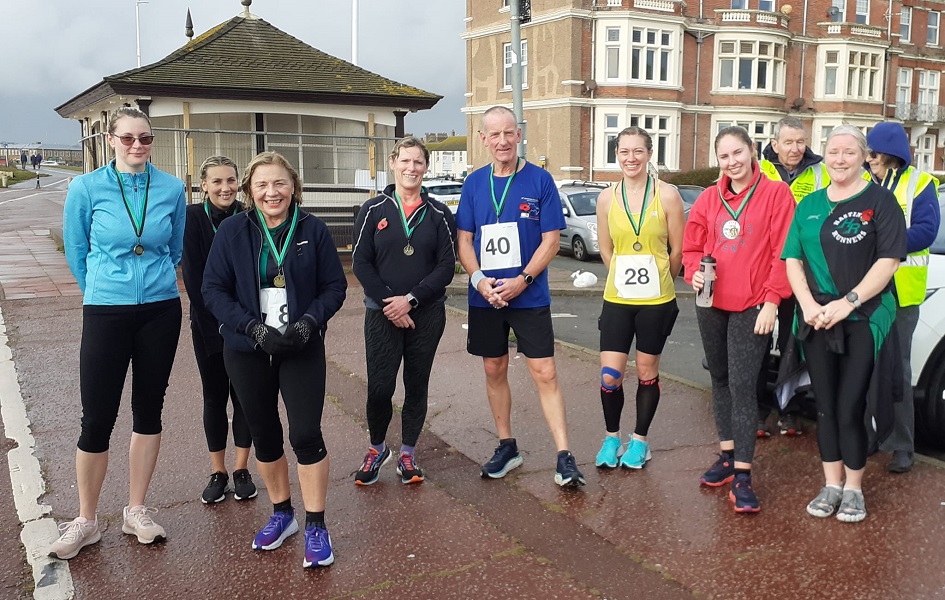 Thank you to Alan Croucher for his hard work in organising the Volunteers. Without their help these races would never be possible. As we head towards a full 2022 race calendar, now is an opportunity to get ahead of the game and start your winter training. Track sessions on a Monday or Efforts on a Thursday/Friday are a perfect way to improve your 5K times. Check the website for more details.
Will Withecombe 16.12 pb; Jack Madden 16.52; Kieran Price 18.38; Martin Snape 18.46; Darren Barzee 19.33; Martin Noakes 19.58; Zoe Fairclough 20.22; Patrick Bermingham 20.40; Neil Jeffries 20.46; Andy Knight 20.53; Nicki Steed 21.20 pb; Ben Sallows 21.27; Tamsin West 21.35 pb; Martin Turner 21.37; Jamie Kennedy 21.39; Charles Bowley 22.14; Amanda Link 22.32; David Harding 22.37 pb; Jon Smalldon 23.22; Andy Alabaster 23.22; Sarah Bendle 23.44; Lucie Smitalova 23.51 pb; Ruth Spiller 24.28 pb; Robert Gagyi 24.44; Bill Edmondson 24.48; Keith Goodsell 24.51; Jo Nevett 24.53; Marie Appleton 25.17; Jan Young 25.24; David Bratby 25.33; Rachael Inns 25.43; Sue Alabaster 26.11 pb; David Kilby 26.29; Mike Ellis 26.31; Millie-Mae Mitchell 26.39 pb; Sue Wilkinson 27.01; Allison Tanner 28.21; Sue Palmer 28.58; Christine Sanderson 29.08; Nigel Thornely 29.09; Mark Dunn 32.19; Terry Kitson 33.39; Cheryl Withecombe 34.17; Catherine Southgate 34.53; Irene Kitson 34.54
This Friday is International Men's Day and Hastings Library have a free event to raise awareness of Men's Mental Health. See the leaflet below. We have our own team of Mental Health Champions if you have any questions.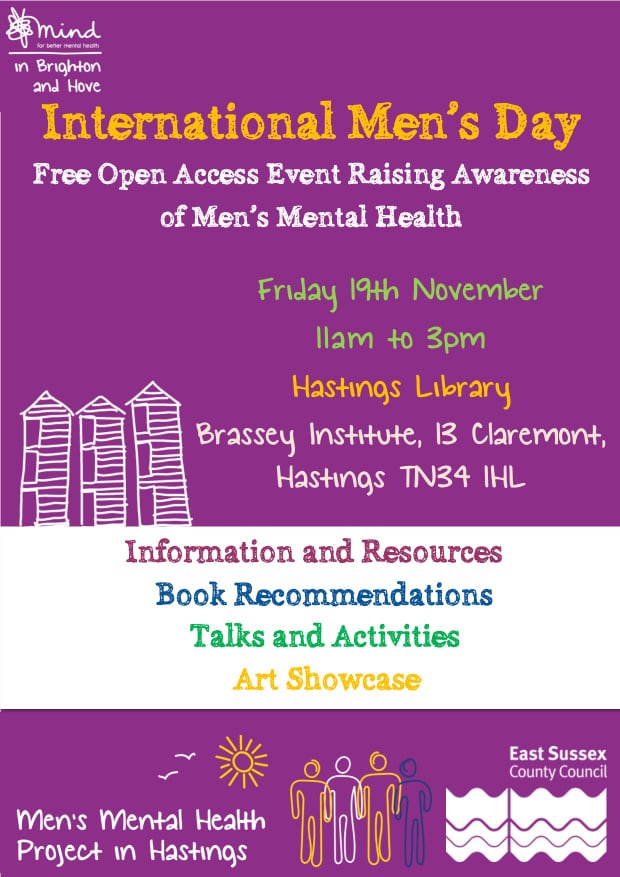 Thank you for reading. Thank you to Louise Cavill and Nick Brown for the photos.
Written by Simon Linklater